Australian consumers believe ethical purchasing is important, but are failing to follow through on their own beliefs. While 87 per cent want to change their fashion consumption habits to consume more ethically, just 46 per cent indicate they regularly purchase from ethical/sustainable fashion brands.
These findings come from the new Australian Ethical Consumer Report, released by Baptist World Aid Australia in collaboration with social research company McCrindle. The report, which draws from national data, reveals that most Australians feel a sense of global responsibility and want to change their consumption habits, but cite awareness of ethical brands and expense as the two greatest barriers to doing so.
St Peters-based Citizen Wolf is one ethical clothing supplier that knows it's often a luxury for people to shop their values – with only the top 10 per cent of income earners having the means to do so.
"Until that changes," says co-founder Zoltan Csaki, "until there is no added economic cost to making the right decision – it's always going to be niche, not mass market."
Mr Csaki says that while many people want to shop their values, they're not always able to do so due to cost and financial stress. Fundamentally, he believes, when people are at the checkout or shopping online, it still comes down to price.
"At Citizen Wolf our strategy is to make shopping your values no more difficult than buying anything else. We're trying to remove the 'green tax'. We believe it's our job as ethical and sustainable brands to make that decision easy for people by removing price as the barrier.
"Our long-term vision is to get to price parity with the upper mass market, because we're never going to compete with Kmart."
Mr Csaki says one difficulty is that the pricing reference point for consumers is unrealistic.
"We or any other ethical or sustainable (or both) brand is starting from a huge disadvantage in the sense that people think it's fine to pay $5 for a T-shirt at Kmart. It's simply not.
"Somebody's paying the externalities on that $5 T-shirt, if it's not you. If the true cost isn't reflected in the price, it means there's exploitation throughout supply chain.
"Between two and maybe four cents of every dollar ends up in the garment workers' hands. Not everybody knows that but, if you do, it's really hard to look at that $5 T-shirt in the same way."
The system's broken
Citizen Wolf was established with an eye on the bigger picture – a thirst by Mr Csaki and his business partner Eric Phu to fix fashion's "dirty secret" of overproduction.
One in three pieces of clothing made every year doesn't need to be made, he explains. And then, of the clothes that are sold, 40 per cent are sold on discount. This means, of the items that are sold, 40 per cent don't need to be made.
"It's wildly inefficient – and it's the system that's broken.
"When we started Citizen Wolf, it was the scale of the problem that really spoke to us. We thought: If we fix this, if we get it right, the opportunity to effect change is enormous."
Fashion is a $2 trillion industry, globally responsible for 10 per cent of global CO2 emissions. A report released by the World Bank states that, if the way we make clothes at scale doesn't change, then the carbon emissions of the fashion industry are going to rise by 50 per cent this decade.
"We cannot solve climate change without fixing fashion. It's that simple. But the incumbents, the big players in fashion, don't care. They pay lip service. They greenwash," Mr Csaki says.
To help fix the system, Citizen Wolf is currently focused on validating its made-to-order model, being a leading light in the industry, and convincing more companies to consider using its model as some fraction of their output ("because anything is better than zero at this stage").
"We don't obviously expect any of the big players are going to turn on a dime and suddenly go 100 per cent made to order. But over time?
"Our ambition is to prove that made to order works – that it's not only viable but desirable from the customer's point of view and also profitable. If we can prove it's a better business, that's a large part of what we need to do to make other people join us on this path."
Citizen Wolf prides itself on being: purpose built around single-piece production (meaning it only makes what it sells); Ethical Clothing Australia (ECA) and B Corp certified; using only natural fibres; and producing 48 per cent less carbon per T-shirt than fast fashion.
Being ECA certified means the garments are made in Australia and seamstresses are paid fairly for their work due to Australia's strong labour laws. Free remakes if their special "magic fit" process doesn't work first time around and repairs for life are also part of the package they offer.  Mr Csaki believes that makes their T-shirts extremely affordable at their current price point.
It is Citizen Wolf's genuine commitment to ethics and sustainability that attracts loyal customers like Roxy Rogan, founder and CEO of conservation enterprise Wild Education, who has produced two award-winning documentaries on the plight of the orangutan, the latest called Keepers of the Forest.
"Being aligned with people who share our values and live our values in a truly authentic way is everything," Mr Csaki says. "Because we do all the right things, we have people like Roxy, hand on heart, who can with confidence claim that we support those same values in every way.
"We're trying to re-engineer the fashion industry for the sake of the planet, and we can only do this with the support of a community of empowered people like Roxy."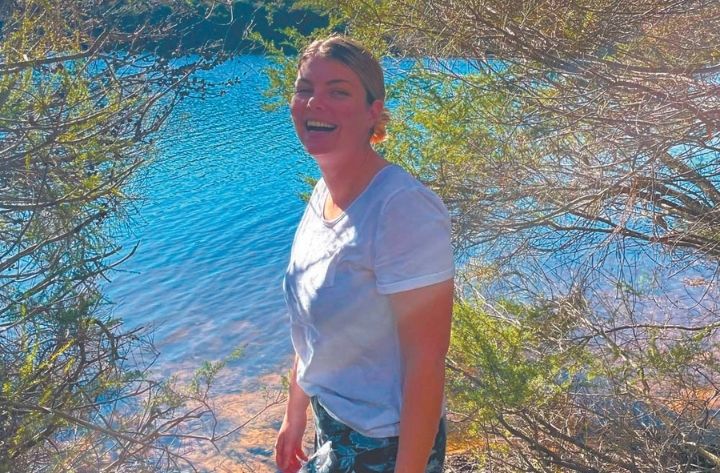 Overproduction – fashion's dirty secret
The Australian Ethical Consumer Report shows most Australian consumers believe stakeholders in the industry have a responsibility to ensure human rights are upheld and the environment is stewarded well. The report also shows that, despite Australians believing in the importance of ethical fashion, there is a lack of knowledge about the issues within the fashion industry.
Educating its clients and potential purchasers about ethical fashion and consumption via its social media channels and other marketing is a role Citizen Wolf takes seriously. This is no inconsiderable task given that every 10 minutes an estimated 6000 kilos of textiles and clothing are dumped in landfill in Australia. The fashion industry is also responsible for 10 per cent of annual global carbon emissions, more than all international flights and maritime shipping combined.
The task is also made harder by fast fashion brands which are experts as greenwashing; meaning they mislead caring people into believing their products are sustainable as they send "conscious clothing" directly to landfill.
"We're not greenwashing," Mr Csaki says. "We're probably the only fashion brand that's not greenwashing! Sustainability is a very controversial term, and I think it's been rendered almost meaningless in the market because anyone who uses organic cotton or recycled polyester considers themselves to be a sustainable brand.
"What nobody's talking about in fashion is overproduction, which is the greatest issue facing the fashion industry. It's the dirty secret that nobody wants to talk about.
"Every year on average, one in three pieces of clothing made goes to landfill unsold, which is obviously not an excellent result for the planet. We fundamentally believe at Citizen Wolf that the system has to change. And this means, if you're not in the game of systems change, you're not sustainable.
"It actually doesn't matter too much what material you choose to use if you're running a mass production model where one in three pieces you just plough back into the ground. Because you're not actually helping.
"I fundamentally believe if your clothes are not made to order, they're not sustainable. There's just no way around it. It's that black and white. We only make what we sell. That is true sustainability."
Peter Keegan, Director of Advocacy at Baptist World Aid, says a large portion of Australian consumers are still struggling to take the next steps towards purchasing ethically but tools like the Ethical Fashion Guide [published in October each year, to shine a spotlight on the practices of major Australian and global fashion brands] are created to bridge this gap and help consumers to match intention and action.
"This report reveals we have a long way to go when it comes to ethical consumption and understanding the impacts that our purchases have on the environment and people around the world.
"But with the Ethical Fashion Guide and My Shopping Type Quiz [which accompanies the Australian Ethical Consumer Report], we can take those next steps towards becoming more ethical consumers."
_______________
The Australian Ethical Consumer Report is available for download here. Take the My Shopping Type Quiz here.
Also see https://www.citizenwolf.com