Congratulations to our 31st Prime Minister, Anthony Albanese, and to Tanya Plibersek, who has retained the seat of Sydney with a preference count of 66.8 per cent, ahead of Greens candidate Chetan Sahai with 33.2 per cent. Plibersek takes up a crucial portfolio as Minister for the Environment and Water.
Concern about climate change was a decisive factor in the federal election. Labor won government despite a scare campaign by right-wing MPs and their supporters in the Murdoch-owned press about the cost of acting on the climate crisis.
A slight swing of 1.9 per cent away from the ALP in Sydney is indicative of strong community support for climate action. The SSH acknowledges the wise leadership of many, noting local activists and community organisers involved with School Strike 4 Climate.
The overall results see a diverse new parliament with six climate-focused independents – all professional women – ousting the Liberal party in its wealthy conservative heartland, and big gains for the Greens (who increased their representation by 50 per cent).
The Albanese government will be under pressure from Greens and independents to boost its policies and emissions reduction targets, including a 43 per cent cut by 2030 compared with 2005 levels – significantly stronger than the conservatives proposed, but relatively modest when held up next to what the Intergovernmental Panel on Climate Change has demonstrated is necessary.
The future of coal and gas has been pushed to the centre of political debate. The Greens will hold the deciding votes in the upper house of the new parliament, and Labor will need their support to pass laws.
These are challenging and hopeful times, and the SSH is delighted to share news of the Inaugural Trevor Davies Memorial Lecture to be held at 107 Projects, Redfern, 7.30pm on June 14. National Secretary of the AMWU, Steve Murphy, will speak about how progressive activists can build effective grassroots coalitions between trade unions, the ALP, and the environmental movement.
RSVP here.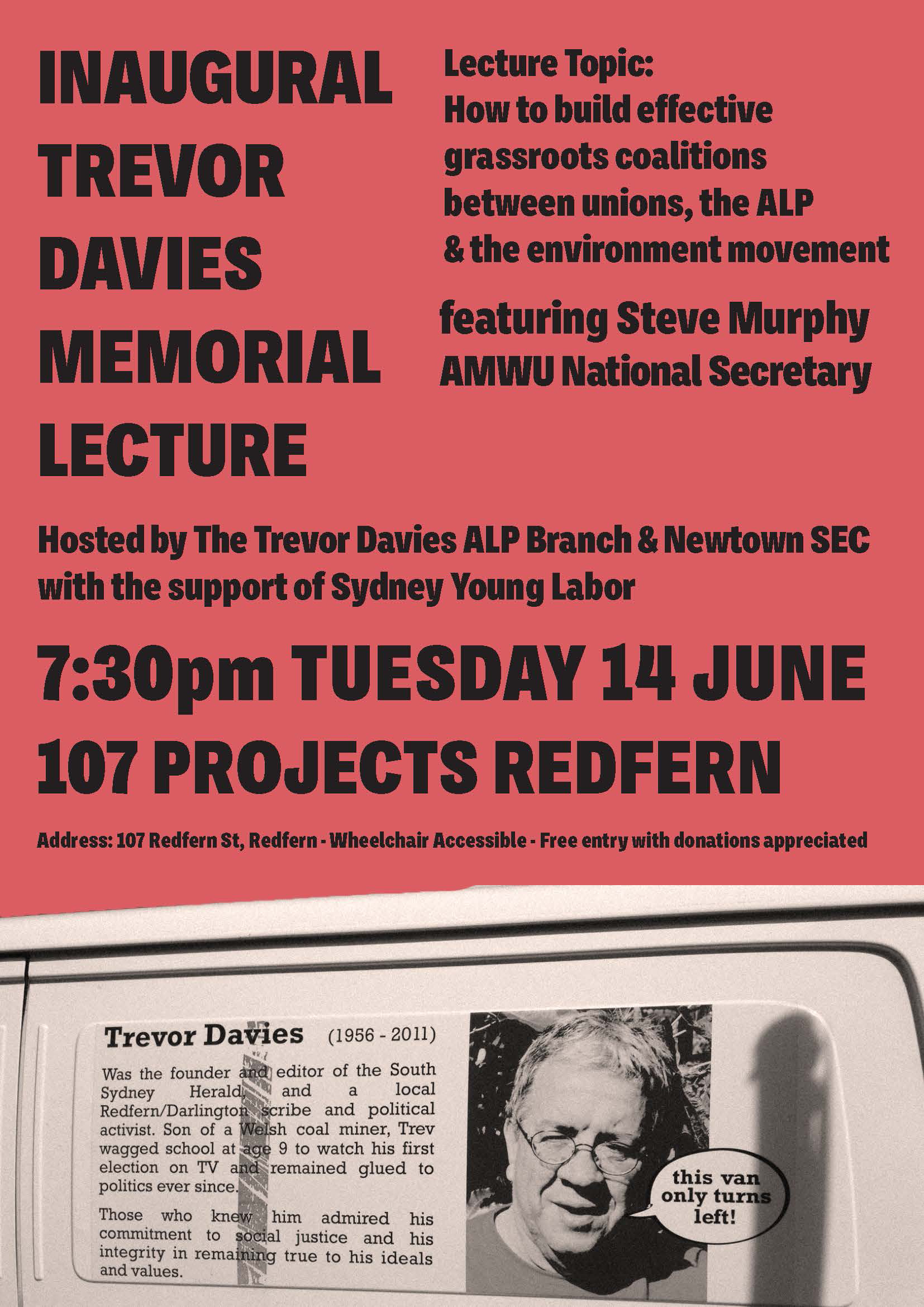 _______________
Trevor Davies (1956-2011) was founding editor and news editor of the SSH.