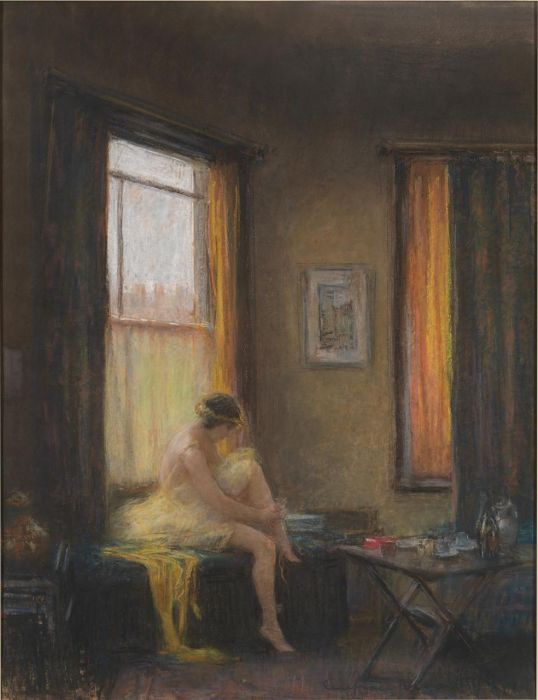 By 1923 she was an international success.
Moving to London and exhibiting at the Galérie Beaux-Arts, the Royal Academy and the Salon de la Société des Artistes Français (the Old Salon) in Paris cemented her reputation.
She lived for many years in France and Italy with her girlfriend, publicist and business manager, Miss Argemore ffarington "Bill" Bellairs. In 1939 she returned with Bill to Australia, where they both remained due to the outbreak of the Second World War.
A significant portion of her oeuvre is studies of the female nude in pastel – and she is highly regarded for her work in this medium.
Cumbrae Stewart's story is one of many intriguing tales told in Intrepid Women: Australian women artists in Paris 1900-1950, showing at the S. H. Ervin Gallery until March 11.
The exhibition features paintings, prints and ceramics by 30 Australian women who were lured from Australia's artistic and socially conservative shores to the city of light to study, paint and pursue their artistic lives.
One such intrepid woman was Bessie Davidson (1879-1965). She studied art in Adelaide under Rose McPherson (who was later to be known as Margaret Preston) and moved with her to Paris in 1904.
In the two years following her arrival she exhibited at the Salon de la Société des Artistes Français and had paintings shown at the Société Nationale des Beaux-Arts.
After the war, Davidson showed her paintings frequently in Paris, and won praise from the critics.
Best known for her impressionist light-filled landscapes and interiors, she never returned permanently to Australia, adopting France as her home.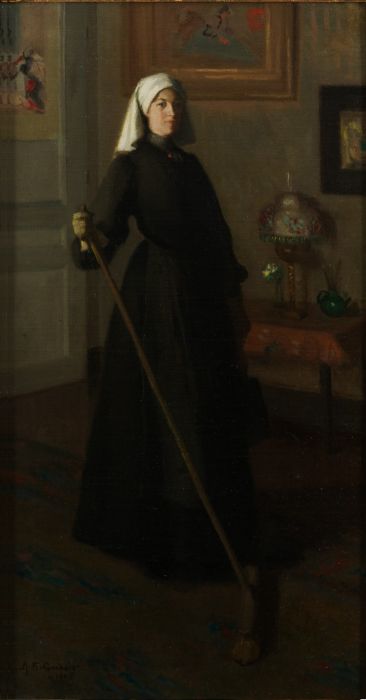 Agnes Goodsir (1864-1939) enjoyed a fine reputation in Paris in the 1920s and '30s for her portraits of famous people and still lifes and interiors that captured Parisian life.
She was only the second Australian woman invited to become a member of the Société Nationale des Beaux-Arts, which was a great honour, but she still received little recognition in her home country.
Following her death in Paris in 1939, she was largely forgotten. That is until the mid-1990s when a relative of Goodsir's walked into Victoria's Bendigo Art Gallery and Karen Quinlan, now the gallery's director, became fascinated by her work.
More recently, Pilar Mata Dupont was awarded an Australia Council grant to develop a new work with five female international artists in response to Goodsir's painting Girl with Cigarette. The group set up a residency in Paris, where they developed a multi-screen film work informed by ideas of feminism, the domestic space and the female gaze. In her talk "Looking for Agnes", at Bendigo Art Gallery in April, Dupont will unpack her journey through Paris on the trail of Goodsir's life and work.
Intrepid Women includes works by other well-known artists such as Grace Crowley, Anne Dangar, Ada May Plante, Margaret Preston, Stella Bowen, Margaret Olley and Hilda Rix Nicholas. Works by less familiar artists like Mary Cockburn Mercer, Madge Freeman, Anne Alison Greene, Alice Muskett and Betty Quelhurst also feature.
While the works exhibited may not always be the best examples of the artists' works, I still found it pleasing to see them all together – as if they were members of a coterie returning home for a celebration. I'd been hoping to keep the party going by purchasing a book about Australian women artists in Paris, which I'd understood was going to accompany the exhibition, but was told it was still on the way. (It should be worth a look when it comes out.)
Despite newfound freedoms won for women in the first half of the 20th century, it was still a bold move for female artists to travel abroad to pursue their artistic careers.
Reading the artists' potted histories alongside their works revealed just how hard it was to break away from Australia and the yoke of domesticity. It also illuminated the rewards of making the break and the frisson of their Parisian adventures.
Artists like Dorrit Black and Grace Crowley, in Paris during the cubist and modernist periods, also encountered strong local opposition to their modernist teaching at art schools they established on their return to Australia.
I think of these intrepid women as paving the way for new generations of Australian women artists. While our contemporary female artists still struggle with choices between art and motherhood and about whether it is best to live at home or abroad, the way is clearer. The determination of their forebears should encourage and inspire them as they launch their careers and chase their dreams.