Filmed over five years, I'm Wanita is the story of Wanita Bahtiyar, flamboyant country singer from Tamworth, as she heads to the US to realise her lifelong dream of recording an album in Nashville, honkytonk capital of the world.
Announced as finalists for the coveted Documentary Australian Foundation Awards by the 68th Sydney Film Festival I'm Wanita is the proud achievement of a Waterloo-Redfern based team, People Productions, comprising creatives, Clare Lewis, Carolina Sorensen and Matthew Walker.
The team is delighted with the success of I'm Wanita as the documentary had its premiere at the prestigious Canadian International Documentary Festival, Hot Docs, and was nominated for an Australian Academy of Cinema and Television Arts (AACTA) award for Best Documentary as well as for Best Music Documentary at the UK Raindance Film Festival.
When Clare and Carolina worked with Matthew on the edit of There Goes Our Neighbourhood – their moving documentary on the proposed demolition of Waterloo estate – he showed them a short film he had made in 2015 about Wanita. As Clare says, the two producers "were immediately drawn to Wanita's renegade character, her honesty and her energy …  a tornado with 'no filter', who knew exactly who she was". They both felt that her all-consuming passion for '70s style country music, for Loretta Lynn of Coal Miner's Daughter fame and her dream of achieving personal stardom by recording in Nashville, would make compelling viewing.
Apart from the problems of raising money to finance the expedition and the difficulties of travelling internationally with an entourage and equipment, Wanita's hard-drinking, reckless and generous character (despite its appeal) created unwanted complications. However, Matthew, who directed the film, adopted a philosophical attitude from the outset, "trying to accept that anything that happened was the perfect thing to happen". Wanita's character, he explains, "was the story … she just has complex patterns of behaviour that take a while to understand. Like a weather system maybe." Yet, even Matthew's tolerance could be tested and he recalls once sitting in a gutter in New Orleans "pissed off" waiting for her.
In thinking back over the filming, the team recollects several favourite moments. For Matthew, the final days of filming at Honkytonkville before leaving the US "were pretty fun as we and Wanita were all in a heightened state … as we knew this was actually about to happen" and he fondly remembers an interview with the elusive Archer (who accompanied the entourage as "bagman") which was filmed in a large fig tree.
Clare is less forthcoming in case recounting her favourite scenes "might spoil the ending for audiences", but she does admit that "watching Wanita gate crash many a stage on her musical odyssey in America, and nail it every time, was a huge, nail-biting thrill".  There is also a moment, she adds, "steeped in pathos involving a cat … look out for that one".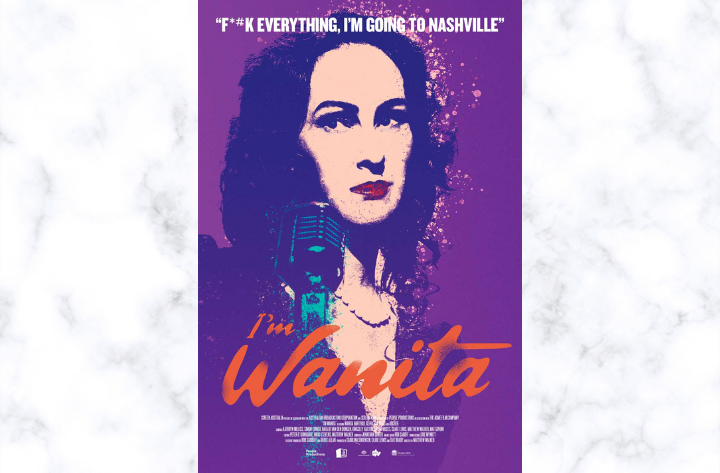 Keep an eye out for the absorbing, offbeat and inspirational I'm Wanita at the Sydney Film Festival, November 3-14, 2021. Speaking for the team, Clare says, "this is not a rags-to-riches story. It is a story about never giving up, doing what you love and trying to have your friends still there at the end." She hopes that people will be inspired by the self-dubbed Queen of Honkytonk to keep seeking their own truth. It is certain that audiences will be drawn in by the drama of Wanita's one chance at fulfilling her dream and entertained by her unique and immense talent.
The unmissable I'm Wanita shows the truth of Carolina's heartfelt claim that People Productions "is fascinated by and has a strong commitment to the art of documentary story telling" with its seamless mixture of on-the-run interviews and live performance. This dedicated company has several projects in development including Campesinos a feature documentary by emerging Chilean-Australian talent Matias Bolla based on his short film of the same name.
_______________
Flexipasses and subscriptions to the Sydney Film Festival can be obtained at https://www.sff.org.au/