Social Justice print sponsor AC Law Group in memory of Trevor Davies, the South Sydney Herald's founding editor and a friend to all in the community. AC Law Group – your criminal lawyers contactable 24/7 on 8815 8167 or visit www.aclawgroup.com.au
---
A more nuanced narrative about contemporary migration and displacement was offered by the diverse artists featured in an exhibition at the Australian National Maritime Museum (ANMM) throughout January.
Curated by Settlement Services International (SSI), Motherland – Exile/Refuge – Migration (repeat) showcased works by 14 artists from First Nations, refugee, and migrant backgrounds, exploring views and experiences of displacement, migration and settlement.
Visual artist Maher Al Khoury arrived in Australia seeking asylum from Syria four years ago. After graduating with a Bachelor of Fine Arts in 1988, he had a dynamic arts career working across the Middle East as a university lecturer and artist, with exhibitions in Syria and Abu Dhabi.
His new work commissioned for this exhibition, "Ground Zero", tells the story of his journey as an artist losing everything due to the destruction of his homeland and arriving in Australia in search of visions of hope for a new future for himself and his family.
"War not only destroys cities and towns and objects of beauty, war defaces humanity. The effects of war can leave a person feeling empty. Art is a way out of that emptiness," he said.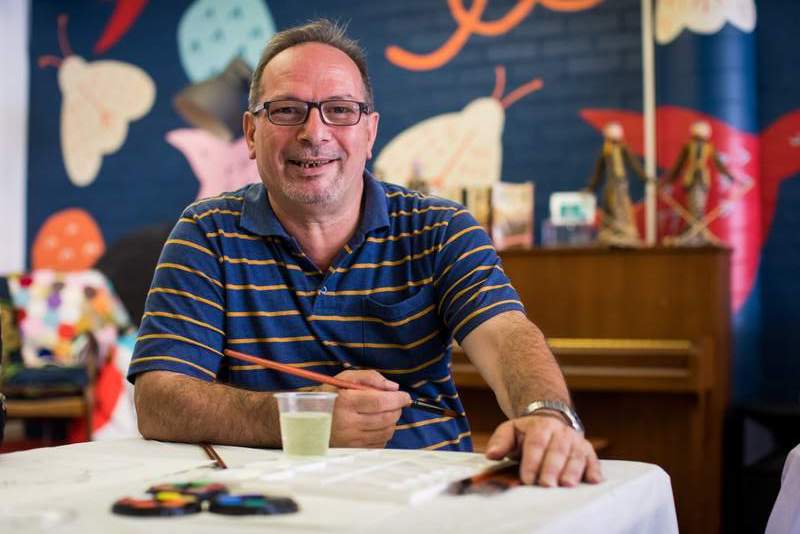 Speaking at the launch on January 27, CEO of SSI Violet Roumeliotis AM said the Motherland exhibition emerged from an acknowledgment that our understanding of Australia as the so-called "immigration nation" is a developing concept.
"It encompasses a multifaceted and sometimes conflicting understanding depending on our personal and social experiences, visa status, the means of transport we used to get here, the country where we were born, the language we speak and the stolen land we are living on."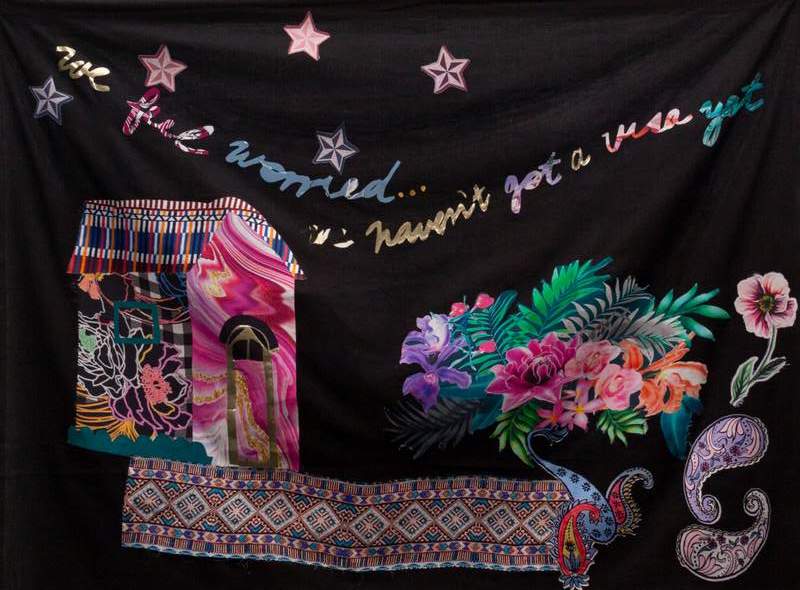 Hedar Abadi, a highly accomplished artist who fled from war-torn Iraq and migrated to Australia in 2005, said his works in Motherland featured fish because "we live in a world of fish where big fish eat small fish. America ate my country …
"I love Australia and I'm happy in Australia," he continued. "But I feel I am a fish in an aquarium. In my country we have two rivers – the Tigris and the Euphrates. I would like to swim in my water. This is my message in my heart."
Some other works included in Motherland were: "Finding Your Feet", a community arts project facilitated by Sayd Abdali and Nasaphah Nasaphah, refugee artists from Afghanistan, and Jane Théau, an artist from Sydney; photomedia including "Trapped Home" by Damon Amb; textile works including "We feel worried we haven't got a visa yet" by the Rohingya Women's Collective: Maryam Bi, Chuma Chuma, Yasmin Khin Khin Than; and Lynette Wallworth's virtual reality experience featuring indigenous elder Nyarri Nyarri Morgan and Curtis Taylor.
Co-curator Nazanin Marashian said the intention of the exhibition was to invite audiences to pause and reflect on the nature and experience of migration, and that this included the displacement of Australia's First Nations communities.
"The exhibition raises many fundamental questions about how migration continues to shape our vision of what being Australian looks like," she said.
"There is poetry in each of the works that speaks about the many layers of trauma embedded within individual as well as collective experiences of displacement."
_______________
Motherland was launched with A Mile in My Shoes an exhibit at the ANMM which enables viewers to step (quite literally) into the shoes of migrants and listen to their stories.