The winner of this year's Head On Photo Award Landscape Prize is not a professional photographer, and her winning entry was taken on an iPhone.
The Head On Photo Awards celebrate excellence in photography in the categories of Portrait, Landscape and Student.
This year's awards were announced on May 1 as part of a digital launch event of the Head On(line) Photo Festival hosted by The Bachelor host Osher Günsberg.
Marcia Macmillan was out with her nine-year-old daughter doing farm jobs when a dust storm began rolling in; it was the second one for the day.
At the time, they were a regular occurrence at Mullengudgery, the property managed by her husband in the Central West of NSW.
"My daughter was just mucking around and playfully taunting the storm, in the way that kids do in a very innocent way," she said.
"And she was just running across the paddocks really and it was at that moment, for a very brief second, I saw something which I thought was quite spectacular."
The size of the storm wasn't unusual, she said, as they had been experiencing dust storms of that magnitude for over a year.
"It was the contrast of someone so little and fragile and innocent, who appeared to be taking on this incredible force of nature," Ms Macmillan said.
She took out her phone, an iPhone 8, snapped a few pictures and then began cleaning up the residue from the storm. Ms Macmillan does not want her photo to generate sympathy.
"I would love for the image to develop a better understanding of the issues faced in rural Australia, including the important role that the agricultural sector plays in Australia's economy," she said.
"I would urge people to try and see beyond the two-dimensional scene taking place, peel back the layers and try and discover some quality or element that resonates with them on a more personal level."
When her photo was featured in The Land, it generated a lot of unexpected attention, including media organisations using the photo without credit and people criticising her on social media for putting her daughter in danger.
"I definitely didn't put my daughter in danger; that statement is completely incorrect," Ms Macmillan said.
"Our house is just out to the side of that photo, which you can't see, and that dust storm is still a long way off. It was slowly rolling in and it didn't arrive for probably another 25 minutes."
She is hoping to use her prize money to take a course in photography and improve at the craft.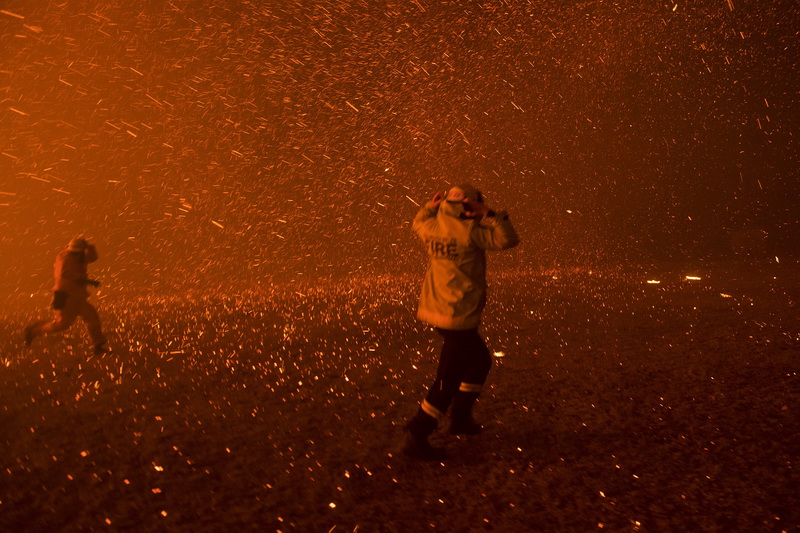 The Australian runner up for the landscape prize, Nick Moir, captured a rare moment in his winning photo.
The Sydney Morning Herald photographer was photographing the Green Wattle Creek fire in October.
He was on a property with fire and rescue units, the fire was quiet, with flames a metre high, but it was already heating up the forest. The smoke was a higher temperature than that in the air, and fumes from the tops of trees could not escape.
"It got up to an explosive mixture and the flames just exploded. It was a 300 metres by 50 metres deep section of forest that all went up in a matter of seconds," Mr Moir said.
"That kind of event, which is called an area ignition, are quite rare. They're not often seen and very rarely photographed and videoed. And I hadn't seen an event with so many embers in the air."
Mr Moir, who has been photographing bushfires for over 20 years, said the recent bushfire season was particularly difficult.
"I'd done plenty of fires … but they were always essentially a build-up of a few weeks of heat and dry… (but this season) there was one major fire day every single week, and each one of those was the equivalent to an entire season's worth of bushfires," he said.
Back in 2001, he began photographing bushfires because he saw a need. Since then, he has captured many memorable moments.
"On those extreme days, you see those things that go into history books where they are very rare but they are stories that are told for generations," he said.
"They will always essentially mark time from when that event happened, and that's where the role of the photographer, more than a video or a journalist, has to take an iconic and important image."
_______________
The Head On(line) Photo Festival featured 110 exhibitions from May 1 to 17. The festival went virtual in 2020 due to Covid-19 restrictions in galleries.