Immerse yourself in the breathtaking beauty and diversity of the natural world at the Wildlife Photographer of the Year exhibition on at the Australian National Maritime Museum in Pyrmont. From the Natural History of Museum in London, these extraordinary images also show the fragility of species and our shared responsibility to protect them.
The Embrace by Sergey Gorshkov, Russia
Winner 2020, Animals in their Environment, Adult GRAND TITLE WINNER
Sergey scoured the forest for signs of Amur, or Siberian, tigers, searching for the best place to set up his camera trap. After 10 months, his dedication paid off: he captured a rare glimpse of this magnificent tiger in its wild habitat. These solitary cats exchange vital information, such as the need for mates, by leaving scent, hairs, urine and other markers on prominent spots, including tree trunks. Under threat from habitat loss and poaching, these tigers are close to extinction.
Technical specification: Nikon Z7, 50mm f1.8 lens, 1/200 sec at f6.3, ISO 250, Cognisys camera-trap system
The Fox that got the Goose by Liina Heikkinen, Finland
Winner 2020, 15-17 years old, YOUNG GRAND TITLE WINNER
Liina and her father spent the day at a fox hotspot on one of Helsinki's islands. She watched as two adults came and went, delivering food to their ever-alert and relentlessly hungry cubs. It was 7pm when the excitement began, with the vixen's arrival with a barnacle goose. Feathers flew as the cubs began fighting over it. One finally gained ownership – urinating on it in its excitement. Dragging the goose into a crevice, the cub attempted to eat its prize while blocking access to the others. Lying just metres away, Liina was able to frame the scene and capture the expression of the youngster as it attempted to keep its hungry siblings at bay.
Technical specification: Nikon D4 + 28–300mm f3.5–5.6 lens; 1/125 sec at f5.6 (-0.3 e/v); ISO 1600.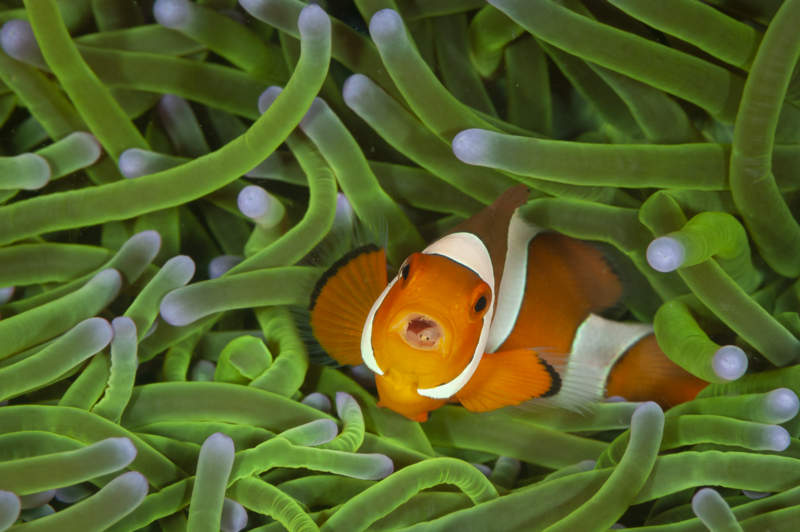 A mean mouthful by Sam Sloss, Italy/USA
Winner 2020, 11-14 years old
It was only when Sam downloaded photos from his diving holiday in North Sulawesi, Indonesia, that he saw tiny eyes peeping out of this clownfish's mouth. It was a "tongue-eating louse", a parasitic isopod that swims in through the gills as a male, changes sex, grows legs and attaches itself to the base of the tongue, sucking blood. When the tongue withers and drops off, the isopod takes its place. Its presence may weaken its host, but the clownfish can continue to feed as it is here protected here by the anemone's stinging tentacles. Sam's image, the reward for his curiosity, captures the three very different life forms, their lives intertwined.
Technical specification: Nikon D300 + 105mm f2.8 lens; 1/250 sec at f18; ISO 200; Nauticam Housing + two INON Z-240 strobes.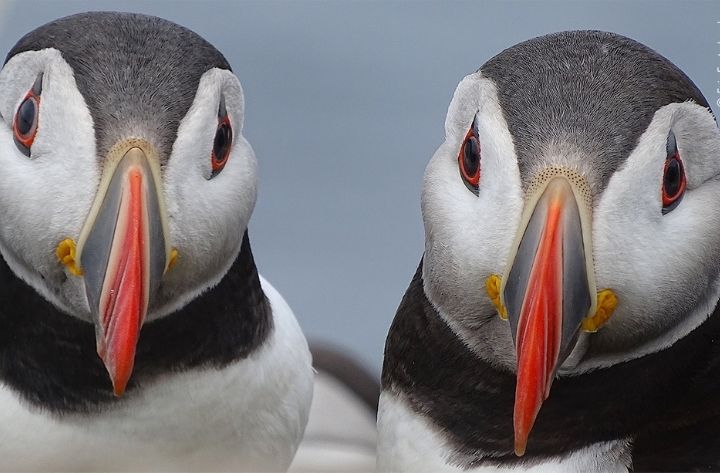 Paired-up puffins by Evie Easterbrook, UK
Highly Commended 2020, 11-14 Years Old
Puffins are long-lived and form long-term pairs. Evie concentrated on this pair of Atlantic puffins in vibrant breeding plumage near their nest burrow on the Farne Islands. When wintering at sea, a puffin's plumage is a dull black and grey, but by the time they return to breed, they are sporting black 'eye liner' and brightly coloured bill plates that have fused into an unmistakable beak – one which, to other puffins, also glows with UV light. Puffins worldwide are in decline, vulnerable to the effects of climate disruption, including more frequent storms and warmer water, which has reduced the availability of sand eels, their staple food.
Technical specification: Sony DSC-HX400V + 24–210mm f2.8–6.3 lens; 1/250 sec at f5.6; ISO 80.
'Passionate about the natural world'
Kevin Sumption, Director and CEO of the Australian National Maritime Museum says "The popularity of the exhibition has grown each year at the museum, not only because of its stunning imagery, but because visitors share our commitment and interest in environmental issues, particularly ocean health. With 2021 marking the start of the United Nations Decade of Ocean Science for Sustainable Development we must concentrate our efforts to promote our natural environment."
Chair of the judging panel, Roz Kidman Cox, says "The diversity of subjects and styles this year is memorable, with more than 25 different nationalities represented. But what especially stands out are the images from the young photographers – the next generation of image-makers passionate about the natural world."
_______________
The Wildlife Photographer of the Year exhibition is at the Australian National Maritime Museum in Darling Harbour Sydney, until Sunday October 31.
See https://www.sea.museum/whats-on/exhibitions/wildlife