A few weeks ago, a friend and I went to the Two Good Co. near Eveleigh's Carriageworks to pick up the meals we'd ordered online.
Today we reminisced about the experience.
"Of all the takeaway meals I had during lockdown, Two Good's is the one I keep dreaming about," she said. "We'll have to go again."
Nicole's immediate response to the food had been a text message full of love-heart emojis and exclamation marks. And yes, our dinners were delicious! Silky onion in the potato and chickpea skordalia, fragrant slow-braised lamb, crunchy smoked almonds paired with the sweetest caramelised carrots and cous cous, and the kind of melt-in your-mouth chocolate brownies that round off a feast.
Along with the flavour – a definite drawcard – it's the feel-good factor of these meals that's tempting us to order again.
It feels good to support this "buy one give one" social enterprise that's bringing love and worth to women in domestic violence safe houses and refuges across the country.
It feels good to know that, when we order from Two Good's takeaway menu, we enable people from these safe houses to be employed in its kitchen to make the meals for the shelters and the other businesses it serves.
It feels great to be met at the door by the women in the Work Work program who have cooked your dinner. Seriously. In the Covid days of physical distancing, to connect with these fun, earthy women is as close as it gets to a warm hug, and we need it.
"For us it's about creating love in a black takeaway container," said Two Good's head chef Jane Strode. "We work with our suppliers to get the best ingredients. Each dish is full of fresh, nutritious produce and cooked with love by our Two Good team."
In Sydney, it's also about cooking hundreds of meals each week and delivering them to 30 shelters, including Newtown Neighbourhood Centre, Wayside Chapel in Potts Point, and the Women's and Girls Emergency Centre (WAGEC) in Redfern.
"We believe people staying at these shelters and community services deserve the very best," Jane Strode adds. "That's why we take such pride in ensuring each donated meal is packed full of love and restaurant-quality ingredients."
Support for fire victims
Women's services on the bushfire-ravaged south coast doing it tough have been the recent and grateful beneficiaries of Two Good's generosity – eliciting heartfelt responses from clients and workers.
"A delicious perfect meal for someone who has lost a home and is living in a caravan with a microwave, thank you."
"So nice to have a meal made for my family and me after all we have been through, makes waiting for accommodation more bearable." 
"Our clients are women who have had tough times – these meals, made with love and care, are real godsends for them – good, healthy and delicious food. Feels like being wrapped in love."
Two Good's Program and Community Engagement Coordinator, Alex Nagle, said crises like bushfires unfortunately lead to an increase in domestic and family violence (DV), which inevitably places strain on DV support services.
"In early March, just before Covid-19 took hold, we visited women's services between Nowra, Moruya and the Bega Valley to see what was happening on the ground, and what needs we may be able to meet," Mr Nagle said.
Services that had been stretched before the fires, struggled even more when the fires hit – with resources like housing, food and counselling reaching capacity.
Requests for help increased and exceeded records. One service manager was working double-time, without pay, just to keep up with demand.
"Two Good couldn't help with all these issues, but nutritious, ready-made meals was something we could do. With so many people without a kitchen, a microwaveable, complete meal was a godsend."
Since it began in June 2015, Two Good has donated 163,989 restaurant quality meals across Sydney and Melbourne. Its Work Work program, which skills-up women over 50 to re-enter the workforce, has also been a great success.
"The program gives vulnerable women a safe workplace to reclaim their confidence and adjust back into employment," said Mr Nagle.
"We see lives transformed.
"Employment unlocks positive self-perceptions and brings better housing, financial and health outcomes for the women. This is particularly important for women over 50, who are the fastest growing group of homeless people, and one of the most financially insecure."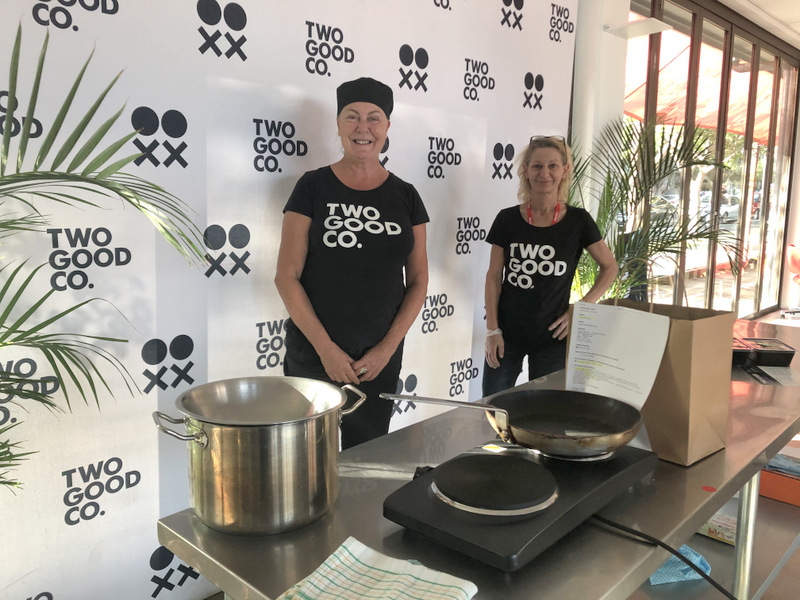 A proud advocate for good
Jen is part of the Work Work team in NSW and is proud to be the Two Good advocate in the refuge where she lives.
"I first found out about Two Good when our shelter fridge was stocked full of their beautiful food one day. The care and respect put into it was so clear to me. But women transition in and out of the refuge all the time so it's a message that needs to be constantly re-told.
"So now when our delivery day arrives, I tell everyone in the shelter all about how I'm working at Two Good now and how much love has been put into the food as a gesture of worth. I'm proud to be an advocate for good. The women all huddle around to ask what I've cooked and packed.
"I might have to start putting a little 'with love from J' on their meals. It would be great to have an advocate in every women's shelter to pass this message of love on."
Jane Strode has an impressive background as a chef and restaurateur in Australia and her nous in the Two Good kitchen is complemented by sous chefs Ivan, Pru and Jen.
Jane's husband Jeremy was a culinary trailblazer who'd also been a fervent advocate for RUOK, and for getting people in the food industry the mental health support they needed, before he took his own life in 2017.
When I ask Jane why she made the shift to join Two Good in January 2020 and what she most loves about the work, she's candid.
"I have a deep understanding of trauma, having your world turned upside down and being vulnerable. I believe in everything Two Good stands for and I was thrilled to join as head chef.
"To stand alongside women who have had their self-worth stripped away from them and to remind them that they are worthy of dignity and respect is a position I am humbled to fill. And right now, with everyone going through so much uncertainty, it's even more important that we stand together as a community."
_______________
To support Two Good you can order household meals, purchase from its catering menu, buy merchandise and donate online at https://www.twogood.com.au/#/story