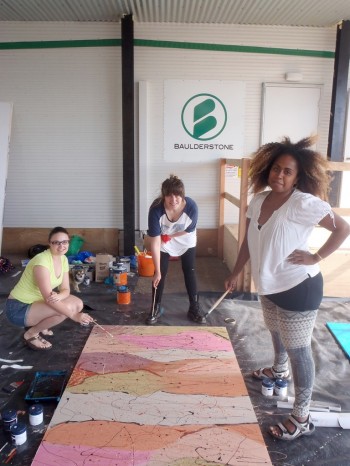 Young artists, from Weave Youth Services and The Settlement Neighbourhood Centre, have designed a series of panels that will be used to brighten construction group Baulderstone's site operations at Barangaroo's Headland Park.
As part of the Weave arts program, a group of 15 artists aged between 8 and 28 years, created free-hand designs on plywood panels. The panels were then fixed onto privacy screens that will be erected at the company's site office off Hickson Road.
The artworks are a welcome enhancement at the construction site, where up to 350 employees will be working over the next three years. "A splash of colour around the job is just what a construction site needs," said Barry Murphy, Headland Park Project Director for construction group Baulderstone. "This is a wonderful and fun initiative that Baulderstone is very proud to be part of."
Partnering with the Weave's Speakout team to encourage and empower young people, the arts program works to create an environment of social inclusion where people feel safe, supported, connected and inspired. "The young people we work with are unique individuals with strength, skills, abilities and passion. Given creative license to illustrate and express their stories through a variety of art media, their lived experiences, fears, hopes and dreams are acknowledged and celebrated," explained Shane Brown, Weave Director.
Established in 1975 by a group of local parents, Weave provides a range of services to socially excluded young people, women, children and families in the Sydney metropolitan area, many of Aboriginal or Torres Strait Islander descent.
Named after Kamaraygal woman Barangaroo, who played an important role in the early days of colonial Sydney, the foreshore site that will soon host the young people's artworks has historical and cultural significance as a hunting and fishing ground of the Gadigal people.