SURRY HILLS: Cowbell 808 is an 80s-themed café in Bourke Street. Posters of David Bowie, Phil Collins, Gloria Estefan and Cyndi Lauper adorn the walls. On Wednesday evenings the café is also a venue for all kinds of educational activity. On Wednesday March 19, a Film Noir Appreciation class was followed by a Sock Puppetry workshop.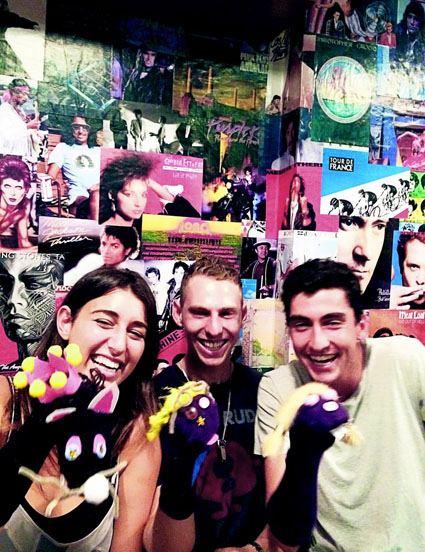 The activity is part of the Laneway Learning network established in Melbourne a few years back. It's a wonderful concept: diverse subjects, passionate instructors, small groups, online registration, social interaction.
Elyse and Kate have not taught sock puppetry before. Their experience has grown out of frustrated attempts to learn crochet at home. "We just thought, let's make sock puppets instead," Kate laughs.
At 7.45pm the tables and chairs are rearranged into two long work stations, and the data projector is set up. We have no clear expectations. "I'm intrigued," says one participant, a 20-something architect out with a friend. "Maybe I'll make something for my little niece," says another. A general mood of merriment prevails.
Fake fur and sheets of coloured felt are distributed, with wool and thread, party ribbon, buttons and socks. I select a dark grey sock, thinking to make a statement with contrasting sequins, sparkles and pom-poms.
The next hour-and-a-half rolls by amid frantic cutting, gluing and sewing. Kate and Elyse assure us there are no rules and we commit to our task with artistic fervour. My conversation partner creates a puppet that is more embroidered coffee cup than sock. "It's a hat!" she exclaims.
Characters range from the long-haired to the big-nosed, from pretty-cute to scary-cute. I decide I've created a river monster – with catfish whiskers and a pink-ribbon bow. Julia, Jeremy and Daniel introduce a trio of svelte figures – singers and dancers it seems.
An Abbey Road image projected on the far wall entices some puppets to pose like John, Paul, George and Ringo. We take photos. Phone numbers are exchanged. A successful and highly social evening comes to a close. Thanks to Kate and Elyse, and the good folk at Cowbell 808 (the name references a distinctive 80s drum machine).