Do you value Sydney's beautiful harbour? Are you interested in efforts to protect the creatures that call the harbour home and improve the quality of the water? You have an opportunity to express your views in a survey to be delivered to the City of Sydney as a part of the Sydney Seawalls Project.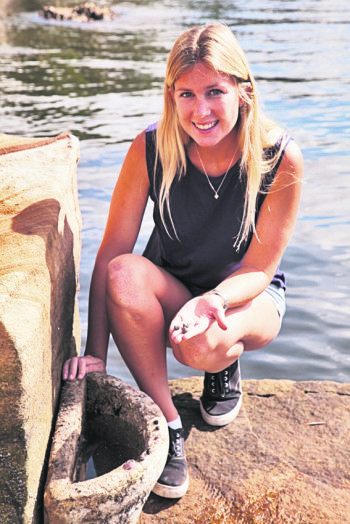 The project involves installing modified flowerpots onto seawalls to retain water at low tide, thus providing habitat for marine life on what are otherwise relatively hostile vertical surfaces. However, the project goes further than designing engineering solutions to enhance marine biodiversity. It is also about involving the community in the process.
Rebecca Morris is the project leader and a PhD candidate at the University of Sydney's Centre for Research on Ecological Impacts of Coastal Cities. When readers last encountered Ms Morris, she had recently installed a set of flowerpots at Blackwattle Bay and was about to install more (SSH February 2014).
In the initial trial, the flowerpots more than doubled the number of species present on the seawall within months of installation. Ms Morris is now accumulating more data from her regular visits to Blackwattle Bay and from the cameras provided by a City of Sydney environment grant. The results are looking positive. "At my last count, there were 21 species in the flowerpots that weren't on the seawalls, including sponges, different species of algae, tubeworms and ascidians," Ms Morris said. She has also been seeing other creatures such as starfish and crabs more frequently in the pots than on the seawall.
The findings of the Blackwattle Bay study and others like it are intended to inform environmental management and planning decisions in the City of Sydney and beyond. The scope is not only the modification of existing seawall structures, but also the design of new ones associated with developments such as the Barangaroo and Bays Precinct projects, where opportunities are there to design for good ecosystem outcomes from the start.
Ms Morris believes that public engagement is also critical for the success of such efforts. The Sydney Seawalls Project community survey aims to explore how residents value the local coastal environment and to inform them about the Sydney Seawalls Project. It also seeks feedback about issues such as the relative priority of environmental effectiveness, aesthetics and costs in the design of seawall structures.
It is a two-way street, according to Ms Morris: "The public funds scientific research, so it is important for scientists to learn how to communicate effectively with the public," she said. "At the same time, public support is really important for these sorts of projects, so that there are good outcomes for both marine ecosystems and for the community. Local residents see the foreshore every day; it is important that they get a say in what happens."