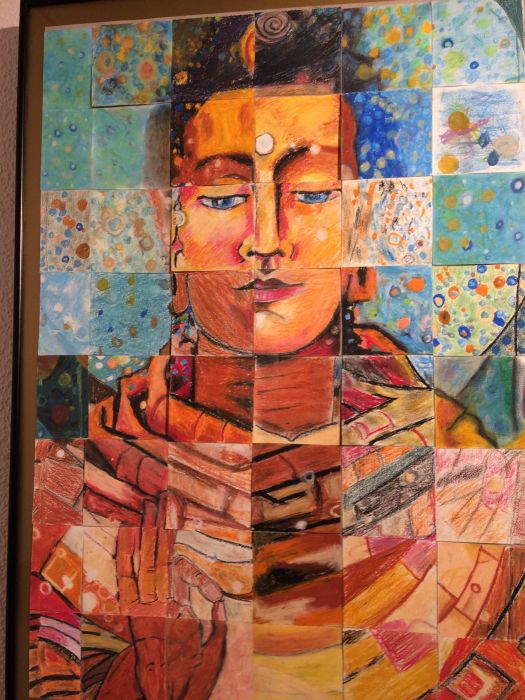 Meditation has been part of Indian culture for at least 3,500 years, and spread from there. It's well known to us as part of Buddhist life and is the path that the Buddha took on his way to Enlightenment. But, it's not limited to Buddhism. All five major religions – Hinduism, Buddhism, Judaism, Christianity and Islam – practise some form of meditation.
Common reasons why people are taking up meditation are feeling stressed, anxiety, sleep problems, health problems, addictions … the list goes on. But it's not all about life's difficulties. We might simply feel that there could be more to our life than we're currently experiencing.
There's nothing new about recognising that modern city life is stressful. Nothing new about how confusing it can be to meet all the challenges we're asked to deal with. Nothing new about the tensions that erupt in life – road rage, even trolley rage … So, not surprising that so many people checking out meditation say they want to develop clarity, calm and emotional positivity.
Meditation can indeed produce many benefits, from reducing stress and improving quality of life, to accessing clearer states of mind and positive emotions such as love and compassion. It can be a significant part of meeting strong challenges like anxiety and addiction. When things aren't going well, something has to change if they're going to get better. That's a no-brainer! To take up meditation is to introduce a powerful force for change in your life. If you change your mind then the world changes too.
In the short term, meditation is an antidote to stress, a means of becoming calmer, more self-possessed and emotionally positive. In the long term, it is a tool with which we can transform ourselves completely.
So, how does meditation help us to change our mind? There's a couple of meditations that anyone can do at home.
We hear a lot about the benefits of mindfulness today and we can start meditation with a basic practice of being mindful of our breathing. Yes, that easy … simply sitting quietly and watching our breath come and go. Easy? Yes, but it takes a little patience to get into it. What this simple practice shows us straight away is how distracted we can be … thoughts about work, angry thoughts, holiday thoughts, thoughts about food, endless thoughts! But, gently coming back to watching the breath will get us there.
One thing we can say for sure is that everybody wants to be happy. Part of being happy is being well, being loved, having comfort, being free from suffering. It's easy to be negative when there are problems, pain, frustration, loss and not getting what makes us happy. Overcoming negative emotions is one of the greatest freedoms that we can gain.
So, again there are meditations that we can do at home that help us to change our negative states into something more positive. Or, simply make us even more positive! There are meditations on kindness that help us to change our negative ways. It's about sitting quietly, reflecting on our own wish to be happy, well and free from suffering, and extending that wish to everyone else. Loving-kindness meditation practice helps us to develop a gentle transformation in our emotional life. Through wishing ourselves and others happiness and well-being, we can become more emotionally positive, kind and compassionate.
Do you ever feel frustrated in life, as if something is holding you back, tired of the same old routines: work, sleep, work, sleep. What happened to play? Here's where meditation can be really helpful – by making us more aware of the uncreative patterns in our life. It brings a new awareness to our life, and awareness can be an exciting revolution.
Meditation gives us the space to step back and see what things we do that are unhelpful. We create a space in our life that is more calm than usual, more positive than usual, we can begin to see through things that hold us back from a more creative and happy life. Some of the things we might realise is just how much we are creatures of habit, how much we are just going through the motions at work, how much we are doubting our own abilities to change things. Meditation is about freedom from these roadblocks in our mind.
We might feel that things are outside of our control. It's true that many things in life are beyond our personal control, but we can take responsibility for our own states of mind and change them for the better. Perhaps this is the most important thing we can do, for ourselves and for the world.