"I'd Rather It Didn't Play with My Kids" by The Blak Douglas featured in the recent exhibition, Lawful & Permissible  at Damien Minton Gallery in Redfern.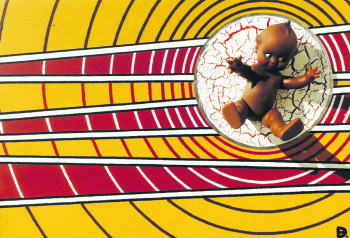 The show, a collaboration between The Blak Douglas (aka Adam Hill) and Amala Groom, was a creative response to the proposed draft Freedom of Speech (repeal of s.18c) Bill 2014 and was launched on July 8 by Gurang Gurang lawyer Cheryl Orr, Indigenous Legal Professional of the Year 2014.
Wiradjuri artist Amala Groom offered a response to historical and contemporary views on unlawful practices that surround race politics.
Her pieces, the result of months of research, were realised with humour in a variety of media and with reference to pop, modernism and contemporary notions of "Australiana".
The Blak Douglas, whose Aboriginal origins stem from Dhungatti Country, produced a body of mixed media pieces for the show in response to the generic adoration of black babies by white adults, and the fact that his Grandmother lived a short life due to being overworked as a domestic.
The result was both captivating and macabre.
Sadly, this was one of the very last shows at Damien Minton. The SSH will run a story on the gallery and its considerable achievements in our next issue.