A new book by Plastic Free July founder Rebecca Prince-Ruiz and author Joanna Atherfold Finn encourages people to quit single-use plastics. In this Q&A they explain why.
How did the Plastic Free July challenge grow into a movement across 177 countries?
JAF: Plastic Free July started with a question that Rebecca posed to a small group of friends and colleagues in WA: "I'm going plastic free next month. Who wants to join me?" The book charts how that question turned into an "accidental campaign" as the idea gradually rippled out into the community and then across the nation and into other countries. The growth was not at all orchestrated, and that is part of the charm of Plastic Free July. It is something people can do to be proactive about their plastic waste in their own way. Some people just focus on the "top 4" single-use plastics, others go completely zero plastic waste for the month and others make the challenge a new way of life.
What did you learn through working on this book about what plastic is doing to the environment?
JAF: I think the biggest impact on me was to learn more about hidden plastics – in many tea bags for example, and also in bags that purport to be environmentally friendly but that actually just break up into smaller pieces of plastic. These forms of plastic don't break down and so the problem spreads in a subversive way. I was also incredibly shocked at just how low our recycling rates are.
How bad is plastic for creatures and ecosystems?
JAF: One of the stories that really hit home was the effect of plastic on Lord Howe Island's flesh-footed shearwaters. Lord Howe Island is such a pristine environment and yet shearwater adults are unwittingly feeding their chicks plastic fragments. Dr Jennifer Lavers, who works with the shearwater population, once found 276 pieces of plastic in one chick. That is just unfathomable. It's sickening. It's negligent. It's a problem that humans are 100 per cent responsible for and it is not some distant example.
How bad are Australian statistics when it comes to plastic waste?
RPR: In Australia we have a mixed record when it comes to plastic waste. Although we increased our overall recycling rates in 2017-18, the national plastics recycling rate was 9.4 per cent. Over half of this was exported for reprocessing – typically to countries where manufacturing is also occurring and as these countries follow China's lead and ban imports of plastic waste this is set to become even more challenging. One of the most effective steps governments could take is to require recycled content in plastic packaging and products. This would help support the recycling industry and decrease the demand for virgin plastics.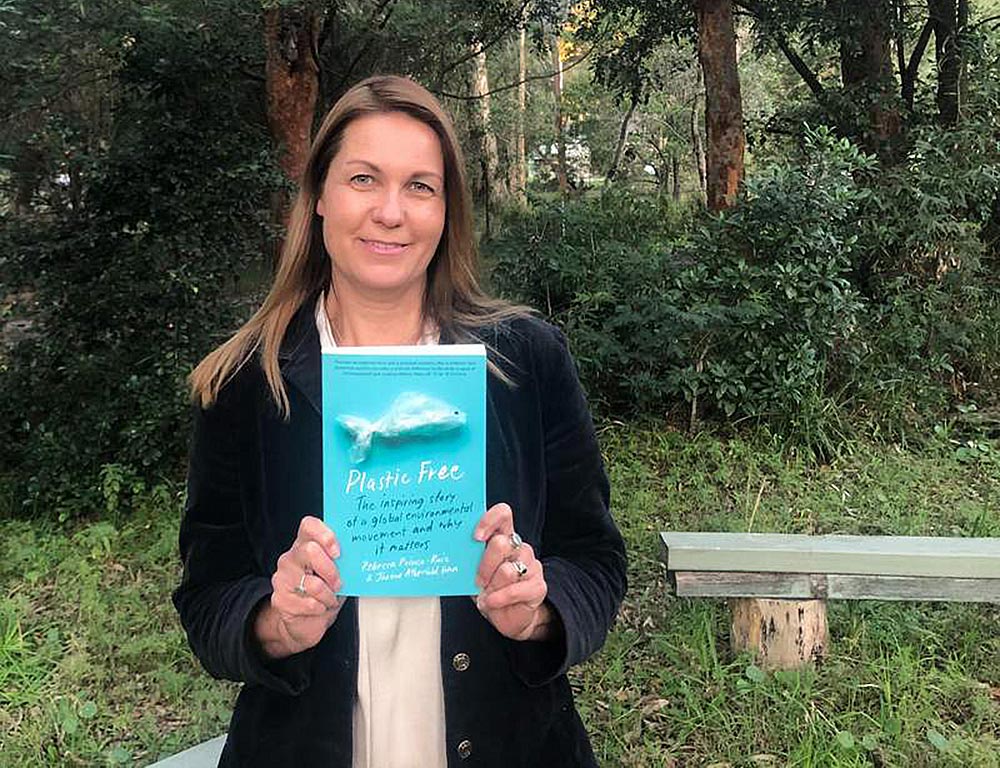 What changes have you implemented in your life since working on the book?
JAF: I'm far more conscious about reading the small print. It is easy to see a green leaf printed on a bag and just assume it's environmentally friendly, but that is often not the case. Rebecca gave me some great produce bags for fruit and vegetables and these now travel with me along with my reusable grocery bags. Our family has also been doing a lot more home baking, which greatly reduces plastic packaging. That has been a response to the pandemic too. It seems as though many people are reverting back to a more simple and sustainable way of life.
What is one thing people can do to reduce their use of single-use plastics?
JAF: Pre-packing some produce bags and a reusable water bottle or coffee cup doesn't take up a lot of room and if we all did just that it would make a huge difference. There are many stories in the book about how individuals, communities and businesses are reducing their reliance on single-use plastic, so there really is something for everyone in learning to be part of the solution.
_______________
Plastic Free: The Inspiring Story of a Global Environmental Movement and Why It Matters by Rebecca Prince-Ruiz and Joanna Atherfold Finn, is published by NewSouth Publishing, July 2020, $32.99.