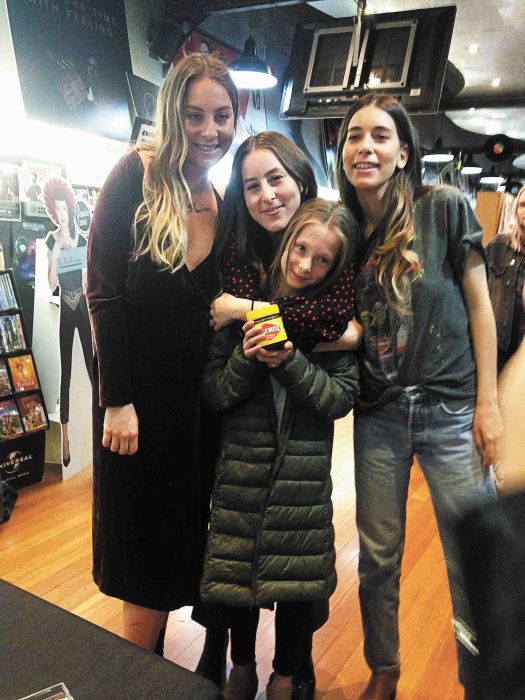 Haim's Something to Tell You (2017) comes four years after the Grammy-nominated Days Are Gone (2013). The new record will be released on vinyl this month and the SSH has two copies to give away. Simply write and tell us something you like about music on vinyl.
The Californian multi-instrumentalists – Alana, Danielle and Este Haim – thrilled 200 fans who queued for hours to meet their musical idols. Locals out for a sunny Saturday afternoon in King Street stopped and stared. Store owner of Hum Peter Thiele said, "We have some fans all the way from New Zealand who've lined up since 10.30am!"
"Haim are all so nice, really nice people," enthused one 15 year-old. "I went to see them at the Enmore [Theatre] and just had the best time. It was high-energy, upbeat and fun!"
Two by two, clutching CDs, records and photos for autographs, they make their way smiling past the security guard at the entrance to the store.
"I love the retro sound – it's cool," said another slightly older fan. "My favourite song is 'The Wire' – fear of commitment in the guise of a kiss-off – it's brilliant. And 'Little of Your Love' is also my favourite!"
Something to Tell You sticks to the winning formula of the band's debut: an infectious mix of R&B, 1970s-style rock and spacious '80s pop. Think Fleetwood Mac and Destiny's Child, Michael or Janet Jackson with touches of Rilo Kiley and Taylor Swift (with whom they recently toured).
Again produced by Ariel Rechtshaid, the album boasts indefatigable melodies and expressive/percussive singing (drumming is a family passion). The 11 radio-friendly tracks are tricked out with studio magic – vocoders, big hall reverb, weird little noises: a horse neigh and a seagull coda on "Want You Back", a fax machine on "Found it in Silence", backmasked gasps on "Nothing's Wrong".
Thematically it's a plaintive record – with something to tell us about romantic longing, romantic wreckage – yet manages to sound empowered. Perhaps it's the strength of entwining vocals and celestial harmonies, the joyous wailing of Danielle's SG, or the clear-headed, precise arrangements.
Ultimately, it's clever and fun.