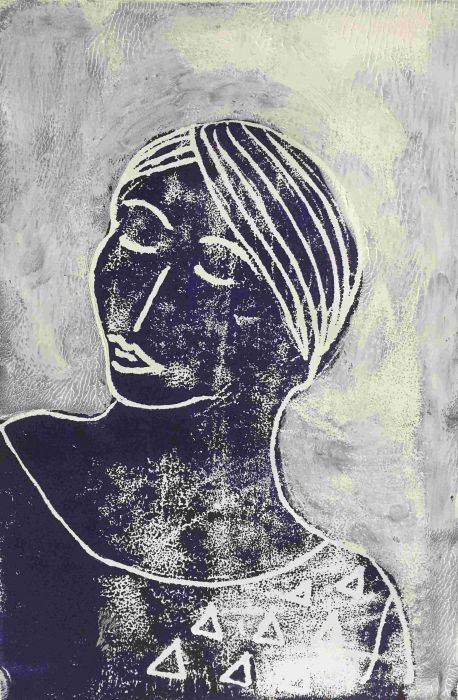 What were your aims regarding the print classes? What experience and practice in printmaking did you draw upon?
My aim for these classes was to introduce a new material for working in print using scratch foam. I saw this as a great material for quick experiments that would allow us as a group to learn to negotiate the medium but be experimental in our approach. To further encourage this I suggested map-making as a starting point for the prints, allowing us to work with simple and bold lines while imagining significant spaces and places through abstracted lines. Some of the group worked with this idea, while others were drawn to imagery inspired either by the books brought along to class, or ideas they had been working on already.
My experience in printmaking is largely self-taught and driven by my painting practice. I approached these classes as a way of learning how to navigate these printmaking materials collectively, drawing on our varied experiences in painting and drawing to experiment with how the materials were used.
How were the classes conducted?
The classes were conducted over two Saturday sessions, November 12 and 26. At the beginning of class we talked about the printing materials we would be using: scratch foam printing and rubber block printing. We watched some Youtube clips together on how to carve out designs and make prints as a visual aid to the process. I suggested to the class that using our printmaking as a map-making exercise would be a good introduction to making simple line drawings as we learn the materials. I brought along some examples and books to this effect that were left out on the table as inspiration.
During the class we sat around one large table with all our materials in the centre and worked and chatted together. We set up our printing press at one end of the table and it became a busy work station in the second half of class. Everyone went off on their own tangents, a few thinking about mapping their local area, others working with mapping in a different way, others working on posters speaking out against the destruction of trees in the local area for the new light rail project. We worked together to experiment with the materials and make a range of different prints using both ink and paint. In the second class we also tried different techniques of layering colours, as well as painting and drawing back into our prints.
What discoveries were made as participants worked together?
Working with scratch-foam for the first time, we quickly learnt that it was a very simple way to experiment with making prints. For a few, the ideas that arose from working with this material fed into a longer project, working with rubber block prints. As a group we shared our discoveries: with carving tools, rubber blocks and scratch foam, and the layering effects of paint or ink on our prints. We found which paper was better to print on, and other papers that provided unforeseen printing effects.
What surprised you most about the work produced?
The work produced was bold, experimental and expressive. I was not surprised by this, as I am constantly inspired by this ever-growing group of artists. I think I was surprised by how many prints were produced, but mainly excited by the momentum to continue to learn, and try new ways of working with our materials to see what could be achieved.
Come along and view the results of Hayley's stimulating lessons and the work of the South Sydney Uniting Art Group in the most recent exhibition to open at the Orchard Gallery. Entitled Cuts & Clay the show also includes many and varied ceramic works produced during classes with teacher and artist, Johnny Bell. Ranging from the realistic to the fantastic, these ceramic objects also include a first attempt to create small garden pieces.