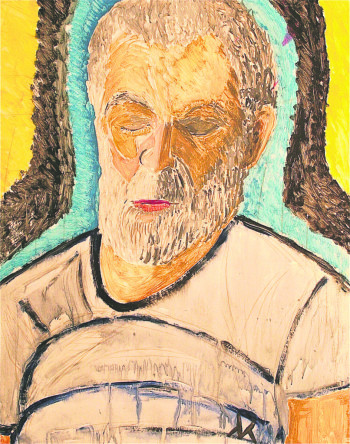 The exhibition notes include an appropriate quote from "The Love Song of J. Alfred Prufrock" by T.S. Eliot: "There will be time/ To prepare a face to meet the faces that you meet." Art class participants, teachers, friends and neighbours gathered on September 27 to celebrate the opening. Former Artists in Residence Jovana Terzic and Johnny Bell, whose portrait of John Lanzky features in the show, were in attendance.
Curator Catherine Wood spoke about the history of portraiture – from revering gods, god-kings, kings and the aristocracy to honouring community leaders and "ordinary people". While for the most part portraiture has been a means of chronicling power and status, and to an extent still is if "celebrity" pictures are any indication, modern portraiture valorises the engagement between artist and subject, between differing identities. She commended the work of the artists, noting that most of the works had been produced over a 12-month period. "We've really enjoyed making these portraits of each other and ourselves, as well as portraits of family and friends," she said. The liveliness and intensity of the work is a reflection of a very positive group dynamic, evidenced in Barry's work, "Artists, Saturday class".
Alana Valentine's portrait of Catherine with her milk chocolate poodle, Finnegan, attracted many positive comments, and smiles. Margaret Vazey's tender portrait of her husband, Brian, garnered warm praise. The chosen approaches to portraiture varied considerably from entirely abstract, for instance, Margaret Vazey's vivid red and black self-portrait, to Rebecca Reddin's comically exaggerated self-portrait, to the stark simplicity of Anna Kovic's "Woman with a hood" to detailed traditional rendition, as in Yvonne Hocothee's "'Zine". While the wittiness and skill of Adrian Spry's black and white sketches is always appreciated, the fondness captured in Gaylene Smith's charcoal of her daughter is most moving.
Parish minister Andrew Collis acknowledged the Gadigal as traditional owners of the land before sharing a few remarks around Jewish philosopher Martin Buber's classic work, I and Thou (1923/1937). Buber distinguishes between two very different ways of engaging the world – an I-It mode of experience and an I-Thou mode of encounter.
"A face-to-face encounter promises an overcoming of objectification, an overcoming of all tendencies to reduce or commodify the other … and one's own sense of identity might be freed, too, from objectifying fears and desires," he said. "In relation, there is the possibility of gift. Buber suggests that such encounters include love for all creatures and for the world in myriad relations – the face of the earth is a site of multifaceted encounters.
"I like to think of these portraits as traces of encounter – in terms of transcendence born of intimacy, trust, respect, wonder. And it's wonderful that the portraits – including the self-portraits – are so diverse."
Anna Jahjah's three quirky portraits of "Anna K." feature on postcards available at the gallery.