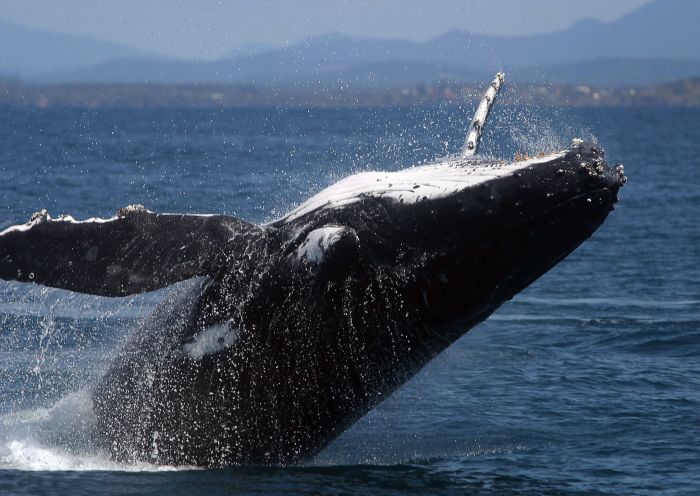 Black cockatoos losing food trees
In July, to celebrate National Tree Day, WWF-Australia, with the help of supporters and volunteers, planted 3,000 black cockatoo food trees at Karakamia Wildlife Sanctuary in Western Australia's southwest. Black cockatoos are well-loved with their characteristic haunting cries and big personalities, but they are also under serious threat.
We hope that planting food trees like banksias, marri and she-oaks will help to bring black cockatoos back from the brink after a dramatic decline in bird populations in recent years. Black cockatoos have lost many of their food trees and homes after years of land clearing for agriculture and continuing urban development. Southwest Australia has the highest concentration of rare and endangered species in Australia and is considered one of 34 global biodiversity hotspots, but land clearing and introduced species have exacted a huge toll.
Dugong and baby whale found dead
Over in Queensland another creature is in trouble. Surveys reveal as few as 600 dugongs survive between Port Douglas and Bundaberg, so the loss of a single animal is a serious blow to the species. Therefore, when a dugong turned up dead near Mackay, WWF called on the Queensland Government to conduct an autopsy. We wanted to know if there was any sign this animal had drowned after being caught in a commercial gill net. WWF believes that this incident reinforces the need for the introduction of satellite monitoring of gill net operators.
Satellite monitoring would reveal if commercial net operators had been fishing in the area in recent days. If there were none, we could immediately rule out gill nets as a cause of this dugong fatality, or alternatively, authorities would know which operators to question.
Just a few days later, south of Mackay, there was another sad death of a marine animal – this time a baby hump-back whale. It was found lodged beneath a tugboat at Hay Point coal port.
Again, WWF called for a full investigation. We told reporters that every effort should be made to determine what happened and what lessons could be learned to prevent future whale fatalities. WWF believes that the death of the baby whale highlights the challenge of operating a mega industrial port alongside the natural wonders of the Great Barrier Reef. A study last year found that if a ship travelling at only average speed hits a whale there is a 50 to 70 per cent chance the animal will die.
Marine life plummets and food security at risk
As a science-based organisation, WWF produces reports to shine a light on issues of concern at home and around the world. There has been a lot of interest globally in the special emergency edition of WWF's Living Blue Planet Report. It estimates that nearly half of the world's marine mammals, birds, reptiles and fish have been lost in a single generation with frightening implications for human welfare and food security. The report by WWF and the Royal Zoological Society of London found that marine vertebrate populations have declined by 49 per cent between 1970 and 2012, with some fish declining by close to 75 per cent. The analysis tracked 5,829 populations of 1,234 species, making the data sets almost twice as large as past studies and giving a clearer, more troubling picture of ocean health.
In the space of just one generation, human activity has severely damaged the ocean by catching fish faster than they can reproduce while also destroying their nurseries. Species essential to commercial and subsistence fishing – and therefore global food supply – may be suffering the greatest declines. Underscoring the severe drop in commercial fish stocks, the report details a 74 per cent decline in fish populations belonging to the family that includes tunas, mackerels and bonitos.
Overfishing, destruction of marine habitats and climate change have dire consequences for the entire human population. The private sector has a critical role to play in reversing the fish stock decline and it's promising that many seafood operators and providers are showing a commitment to more sustainable operations. Fishing and aquaculture must be conducted legally, according to relevant regulations, and must meet standards of sustainability like those set out by the Aquaculture Stewardship Council and the Marine Stewardship Council.
Queensland tree clearing
Back at home, a major investigative report, by WWF-Australia's Dr Martin Taylor, found the destruction of bushland in Queensland was rapidly increasing. He mapped 94 locations where over the last three years native vegetation had been cleared or approved for clearing since the previous Queensland Government watered down tree clearing laws. Native vegetation cleared annually has more than tripled from about 78,000 hectares in 2009-10 to about 278,000 hectares in 2013-14.
The current Queensland Government made an election commitment to reverse these changes, but is yet to deliver. Much of the clearing is in Great Barrier Reef catchments, risking increased levels of soil and chemicals being washed into Reef lagoons. WWF called on the Queensland Government to deliver on its election commitment
Great Barrier Reef Report Card
Perhaps not surprisingly, the Federal and Queensland Governments' own Reef Report Card, released in September, showed the Reef's condition remains poor. WWF is concerned about outbreaks of coral-eating Crown of Thorns Starfish. Nitrogen that washes off farms in the Wet Tropics causes algal blooms which feed baby starfish. More starfish survive than nature ever intended with devastating consequences for the Reef. Scientists say that to stop these starfish we must reduce nitrogen in the Wet Tropics by 80 per cent and the Federal and Queensland Governments have committed to achieve this by 2025. But the report card estimates we've only reduced nitrogen pollution in the Wet Tropics by 14.5 per cent since 2009. WWF believes that existing regulations to stop overuse of fertilisers must be enforced. Leading farmers are showing that it is possible to achieve big reductions in fertiliser pollution while still being profitable.
Can you help?
So there you have it – just some of our work over the past few months. At WWF we know that if you remove threats then populations of species recover. The annual migration of humpback whales is some of the best evidence of this. When commercial whaling came to an end, populations of humpbacks rebounded.
Over in Western Australia WWF is helping a population of black flanked rock wallabies recover – we protected their habitat, removed feral predators, and let nature do the rest.