"Aboriginal culture is being reframed through a new appreciation of Indigenous language" is one way of describing the play Wulamanayuwi and the Seven Pamanui starring local Redfern Aboriginal woman Dalara Williams. Williams studied performing arts at Sydney TAFE Eora College Darlington as well as at Edith Cowan University, Western Australian Academy of Performing Arts (WAAPA). Being on the stage has been her life ambition and she is a very convincing actor.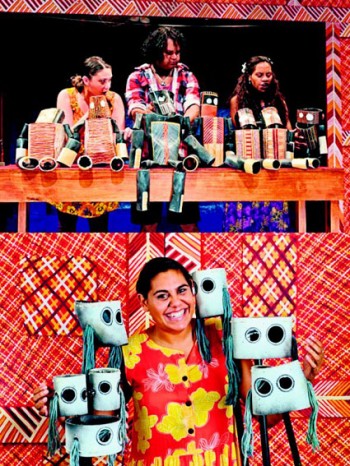 The play, written by Jason De Santis and directed by Eamon Flack, is currently on a national tour and has already played to full houses in Brisbane, Logan, Wollongong and Parramatta. It will continue on to Taree, Bathurst and then to Cairns, Darwin, Perth and Melbourne.
Wulamanayuwi and the Seven Pamanui depicts the Aboriginal version of Snow White and the Seven Dwarfs in English and Tiwi language. Miniature Tiwi ceremonial poles are brought to life as Wulamanayuwi's seven brothers by a very able cast, including Williams. Perhaps the play could be considered just for children with the seven cute Tiwi designed muppets, however, the cast cleverly ensures that adults are equally entertained by humour and clever delivery of rhyme.
Wulamanayuwi and the Seven Pamanui covers the whole range of emotions from comedy, sadness, fear and at the same time educates the audience about Aboriginal culture and the Tiwi language. Cast members speak in Tiwi language and then aptly translate into English.
The play features an all-Aboriginal cast, including Natasha Wangas Wanganeen who also starred in Rabbit Proof Fence.