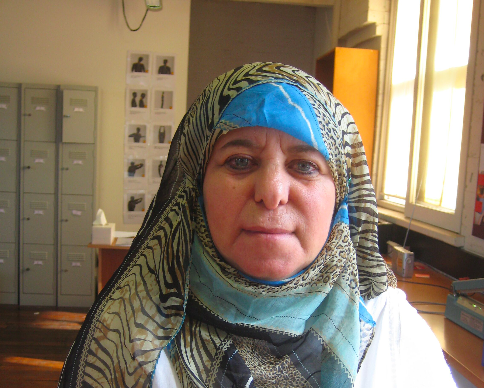 My name is Adla. I was born in Palestine but moved to Kuwait with my family in 1967. We stayed there until we were forced to move to Jordan in 1991 because of the war.  
In 1994, I came to Australia to visit my sister who immigrated in 1992 with her family. When I arrived I was surprised by the country, the environment, the weather, and the society where different people lived in harmony under law and human rights.
I decided to join this wonderful country by applying for refugee status. After my application was accepted by the Department of Immigration I was so happy to be here as an Australian citizen raising our great flag and holding an Australian passport.
Since I touched down on Australia's golden soil I have been treated as any other Australian regardless of my background, religion, and skin colour. I found justice, fairness, equality, and respect for my religious beliefs as a Muslim woman wearing a hijab. I found that I could vote, my human and women's rights are respected and I have the support of all departments of the Australian Government.
In 2006 I got married to a lovely man who joined me as an immigrant. We are grateful to Australia for all the benefits we have received.
I joined The Big Issue in 2011. It was the first job where I found myself in a multicultural environment which gave me confidence and experience to get other jobs. The Big Issue helps women like me to be employed instead of suffering from a lack of skills feeling worthless to the community. I believe if the community helps The Big Issue magazine by taking out a yearly subscription it will help more women to stay off the street.
Life here has been wonderful and I hope it continues for ever.