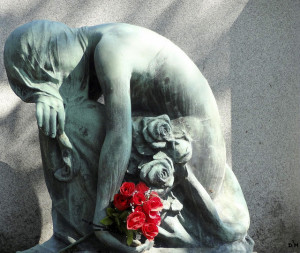 Some typical ways that a person may experience grief: feeling stunned, or "reeling" or disbelieving of what has happened. Feeling numb and/or removed from the immediate reality. Feeling acute sadness and crying a lot. Feeling anger about the loss and/or the circumstances of the loss. Feeling weak and unable to cope with the minutiae of life. Physical pain or other physical manifestations of the grief. Difficulty sleeping or sleeping excessively. It can be a very intense process, hard to go through yourself and hard to watch someone you love go through it.
Grief may well be something that never actually stops, but just changes. Thinking about loss as something that we will one day "get over" is not helpful. However, we can hope for the intensity of the feelings to lessen over time and the ability to live alongside it. It doesn't mean you have broken faith with the person you have lost, or have forgotten them.
Some things that can help: recognising that you are hurting, that your heart is aching, that you feel bereft. Don't soldier on trying to ignore or deny your feelings. Some light activity to help break the tension, such as a walk, a soothing shower and hair-wash, a small meal accompanied by a small amount of alcohol. Allow yourself to talk or write about how you feel. If you are supporting someone who is grieving, remember that grief is a long process, so don't disappear after a month. Allow the person to talk if they wish, or just sit in silence.
Some things that definitely do not help: too much alcohol, keeping yourself alone for too long, pretending it's not happening. While much of the intensity of grief is considered "normal" and "natural", there are some signs that professional help may be needed. If a person has persistent thoughts of wanting to be with the deceased person, or has ongoing trouble with activities of daily living such as showering and eating, you have cause for concern. The same goes for persistent thoughts of guilt and/or worthlessness. While there is no "treatment" for grief, it has been known to trigger depression.