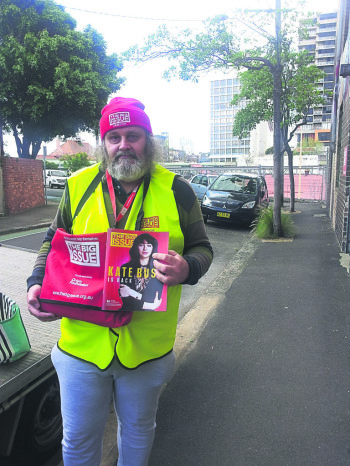 The travel bug strikes down many people these days and the Vendors at The Big Issue are not immune. One vendor who has plenty of travel stories to tell is Peter.
After journeying around Australia and the world, Peter was introduced to The Big Issue a few months ago and has been working around the city since. Predominantly selling at the Darlinghurst Road entrance to Kings Cross station, he has found it to be a very positive experience.
"I find it helps me get a bit more money and there are usually a lot of nice people who are very friendly."
The extra money that Peter has been able to save is helping to fund his other passion, writing. "I'm about to get a book published," he explains as he proudly shows the design for the cover. "It's about NASA's Hand of God," an exploded star that was discovered earlier this year. "I'm relating it to the words of the Bible and making predictions of what I believe is going to happen soon."
With his extensive travel experiences, Peter already has his next book planned and is hoping to have it published by the end of the year. "It's about how I travelled around the world on nothing more than a pension."
In 2000 Peter refused to let money restrict him and saved up just enough money to purchase an around-the-world ticket. He travelled to Hawaii, around America and Europe, sleeping rough. "It was a bit risky. All the details are going to be in the book."
The books are being published by Book Pearl and will be available online under his publishing name, Peter Jolie.