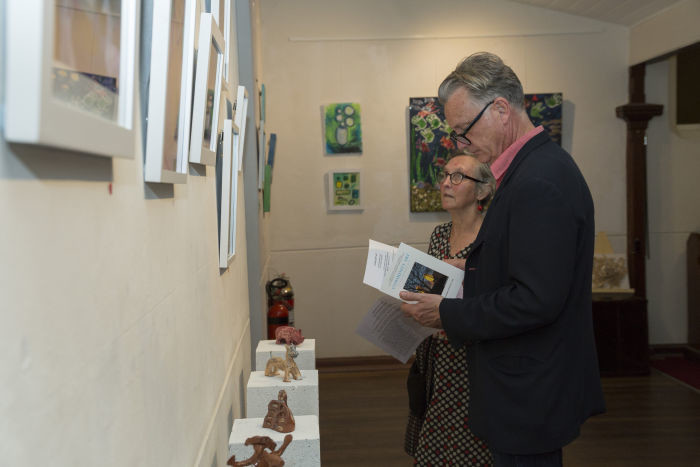 Curators Johnny Bell, Damien Patterson and Catherine Skipper have selected and arranged works to highlight diversity, complementarity and enjoyment. Some of the small ceramic and papier mâché sculptures, for instance, have been placed on plinths as though in conversation. A foot stool with three round legs and one square leg (by John English of the Waterloo Recycling Workshop) spoke to me of sufficiency, of "making do". I was intrigued.
I enjoyed moving about the space, giving each work a moment of contemplation regarding possible connections to the theme.
Some were quite obviously about community – depictions of artists at work (Alana Valentine's multi-media piece "Saturday Art Class", homes remembered ("Boat House" by Les Warner) or conjured ("Homeland" by Jovana Terzic), depictions of neighbourhood icons: the high-rise towers, community gardens, ibis and ravens, the Aboriginal flag.
Others invited a more imaginative construction of narrative. Mex Purcell's "Knit Piece", a colourful weaving with nylon web, plastic sun and moon, represents community as interweaving and invites participants to "have their photograph taken with this well-travelled celebrity". Subsequently, the photographs, it is promised, will be mailed to participants in the form of postcards.
Additional highlights included a large collage work by the Poets Corner Preschool ("Underwaterscape"), Bronte Hookey's charming "Black Cockatoo", Kat Hines' edgy photograph of skaters at Fernside, and Rosalind Flatman's cubist-style painting, "Walking Waterloo".
An accompanying 12-page full-colour catalogue acknowledges contributions from the Matavai Art Group, the Community Painting Group (Our Place, Poets Corner), Wordplay Creative Writing Group and Wunanbiri Preschool.
Aunty Norma Ingram gave the Welcome to Country before Julia Jacklin performed two exquisite compositions (her debut album, recorded in July, will be released soon). Words of appreciation and encouragement were offered by Damien Minton (Watters Gallery) and Michael Shreenan (Counterpoint Community Services). Parish minister Andrew Collis thanked the curators and the many artists and community groups represented. He also acknowledged the generous support of UnitingCare NSW.ACT.
Community Art runs until September 30. For viewings phone 0438 719 470.