Over the past 12 months, the South Sydney region has generously donated more than $2,400 to help The Fred Hollows Foundation continue its sight-restoring work in some of the world's poorest communities.
But the generosity doesn't stop there; in the past year, 70 people from South Sydney have signed up to become regular supporters of The Fred Hollows Foundation – allowing it to continue Fred's legacy of ending avoidable blindness.
Founding Director of The Fred Hollows Foundation Gabi Hollows extended her heartfelt thanks to the people of South Sydney, for continuing Fred's work to help people who are avoidably blind or vision impaired, particularly during another tough year.
Thanks to The Foundation's generous supporters, thousands of people like two-year-old Tiek, from Bokeo Province Lao PDR, have had their sight restored this year.
At three–months old, Tiek's parents noticed something wasn't right – his eyes were clouded, and he wasn't behaving like other children.
"When he started to crawl, he was behind the other kids because he couldn't figure out the directions – he tended to crawl backwards," his mother Kene said.
The clouds in Tiek's eyes worsened and his situation continued to deteriorate until his parents heard about a Fred Hollows Foundation eye camp near their village.
They rushed to have Tiek's eyes examined by Foundation-trained Dr Sonchai Heuangvilai – Bokeo's only eye doctor.
Tiek was diagnosed with congenital cataracts, a genetic disease that can cause blindness when left untreated.
He would need two surgeries – first to remove the cataracts from his eyes, and second, to replace his clouded lenses with intraocular lenses. The surgeries took months of careful planning given Tiek's young age.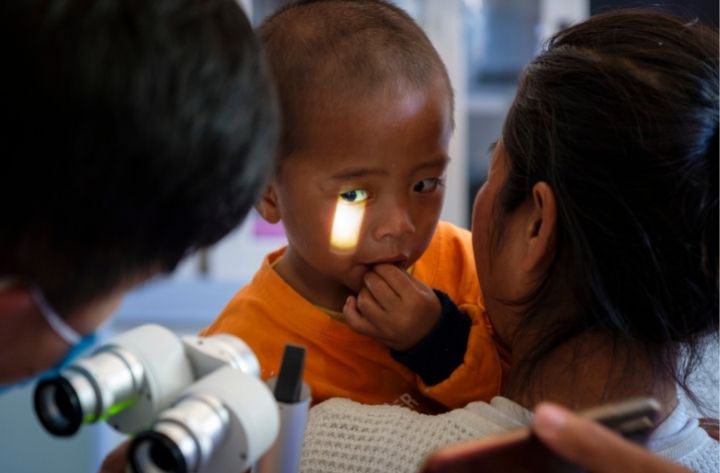 Shortly after his second birthday, Tiek had his second surgery, which enabled him to see clearly for the first time. It was a weight lifted off the shoulders of the whole family, who expressed their thanks to everyone involved in restoring Tiek's vision.
"I am speechless, I can't thank enough the doctors, nurses and their team for helping my grandson," Tiek's grandmother said.
"Tiek is finally able to see his family. When he grows up, I hope he wants to become a doctor. Thank you again for helping my son to have a bright future," Kene said.
Gabi Hollows said: "Our generous donors are at the heart of the Fred Hollows family and helping people like Tiek wouldn't be possible without the support of people from South Sydney.
"Your donations have helped us transform the lives of those living with avoidable blindness.
"I am so very grateful to everyone who has supported The Foundation this year and contributed to carrying on Fred's legacy. I wish you all a happy holiday season."
_______________
See www.hollows.org or call 1800 352 352.
Watch Tiek's story here: https://www.youtube.com/watch?v=YYwRH7eObVY