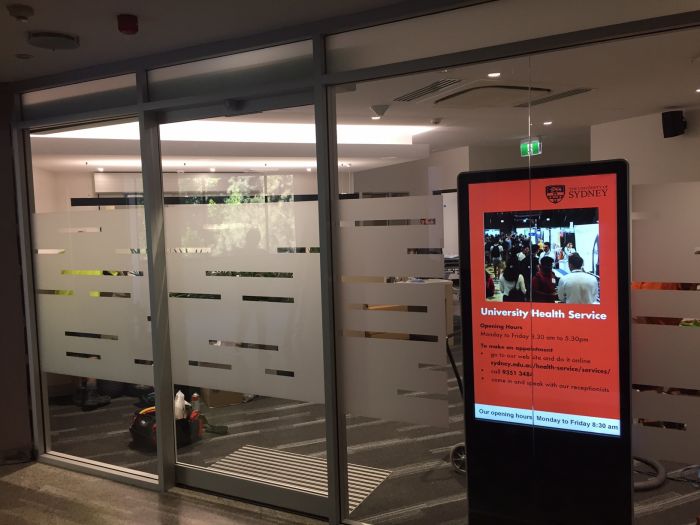 The University in many ways is like a small city. We strive to create an environment where the students and staff can study, work and socialise safely and securely.
Our campus is home to a number of services that are not only available to students and staff but are also open and available to the wider community.
We have shops, banks, cafes and theatres. We have chiropractic, physiotherapy, dentistry and optometry services on site and we have a 24-hour emergency vet clinic.
You can go for a swim or work out at the University's Sports and Aquatic Centre, participate in the Seniors Wellness Program or take a short course at the Centre for Continuing Education.
We are very proud to announce that our University Health Service has recently been completely refurbished and is now open for business providing improved amenity and access to health services and supports for staff, students and the local community.
The upgraded space features improved reception and waiting areas for patients, with a doubling of seating capacity and a designated waiting area for wheelchairs, mobility scooters and prams. A purpose-built treatment room and upgraded consultation spaces with increased capacity will enable the University Health Service to keep up with the increasing demand for the service. The new facility will give rise to a centre of excellence for the provision of health care and health promotion. It will also result in the closer linkage of health promotion, health awareness and access to GP and nurse practitioner support.
The health promotion aspect of the service will specialise in targeting such things as eating disorders, sexual health, drug and alcohol and mental health issues.
Other services offered by the Health Service include:
Treatment of illness, injury and other physical problems
Assistance with emotional and personal difficulties
Women's health
Advice on contraception and sexually transmitted diseases, including HIV/AIDS
Routine medical examinations and health checks (cholesterol, blood pressure etc.)
Sports medicine: treatment of injuries, referral to physiotherapy and specialists
Referral for pathology testing, including blood tests
Travel medicine: advice and immunisation, including Yellow Fever
Referral to specialists and X-ray services
Recreational and occupational diving medicals
The University Health Service direct bills Medicare for the cost of most consultations for Australian citizens and residents covered by a Medicare card.
The service is open from Monday to Friday, 8.30am to 5.30pm during the teaching year with both telephone and online appointment booking available. Contact 9351 3484 or sydney.edu.au/health-service
The University is delighted to be able to offer this enhanced Health Service to our local neighbours along with the other wonderful activities, facilities and services available on campus.
We are looking forward to welcoming both new and returning students and extend an invitation to local residents to come and visit our beautiful campus in 2018.