Licensed: Yes (BYO wine $3 per bottle).
Value: Not your $5 chain franchise pizza shop but if you appreciate great quality fresh food you'd be happy to pay $20 for a pizza here.
Staff/ambience: Very hip venue with an industrial warehouse feel although you don't
need to be 30 something and bearded to feel welcomed. Funky atmosphere and professional wait staff that seat you and serve you all night.
With family: The food is suitable for any palate but family is unlikely to be their target market.
With friends: I could easily go with friends and sample pizzas, one at a time, for a couple of hours.
With a date: Although a little noisy and informal this is an ideal date venue with attentive waiters and I could imagine having a special night here.
Summary: Great woodfired pizza (and other dishes) with quality fresh ingredients and a great atmosphere. Stagger your order and enjoy your night at Rosso Antico.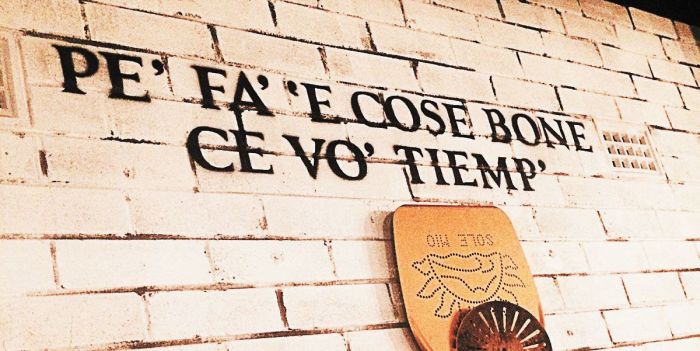 There are pizza shops and there are restaurants that serve pizza: Rosso Antico is the latter. We started with their calamari fritti with lemon and aioli. Wow, as good as any I have eaten. Fresh, super tender calamari with a subtle garlic aioli on a fresh bed of rocket made a lovely well-balanced entree. We followed up with a vegan Sophia which more than satisfied this carnivore. The base was thin and cooked so quickly that the fresh cherry tomatoes still held their form. The artichoke paste was subtle and eggplant made for an interesting plate. The Vesuvio pizza we tried was a creative half calzone (quarter of the pizza stuffed and turned over). It was filled with a delicious ricotta cheese, quality salami and basil. These guys rely on quality ingredients and the KISS principle (keep it simple stupid). There are plenty of creative combinations, interesting salads, sweets and a couple of pasta options.
I really rated this place but my partner thought the pizzas were a little doughy and too cheesy.
The service was fantastic; attentive without being pushy. I was asked how my meal was with a knowing bob of the head by both of the waiters, seemingly confident and proud of their offerings.
I must say the pizzas seemed to come through too quickly, and on my next visit (and I will go again) I will order one pizza at a time to slow down the experience.