Petaling Street Malaysian Restaurant
Shop 4/438-448 Anzac Pde, Kingsford 2032
Licensed: Yes.
Value: Based on what we ate, although portions were generous and inexpensive, the quality rendered the value poor.
Staff/ambiance: Staff were friendly and helpful but the venue is tired with utensils and equipment in open view.
With family: Kid-friendly enough.
With friends: If invited I'd probably be busy that night.
With a date: Only if you want to end the relationship.
Summary: Although this may have been "just an off night" there are too many great eateries around to give this one a second chance.
Based on a recommendation I travelled to Anzac Parade, Kingsford keen to sample the Marmite spare ribs at Petaling Street Malaysian Restaurant. As a starter we had chicken sticks with satay sauce which were bland and small. The other entrée we ordered was the renowned Marmite ribs and although a generous serve it was so full of cartilage it was near impossible to consume. Although the taste was interesting the dish was, at best, average
For mains we were given a generous portion of chicken noodle soup which was acceptable. The crispy skin chicken was simply deep fried chicken and a tad dry, but passable. The beef rendang was the real disappointment. The serve for under $20 was huge and the sauce was satisfactory. The meat, as you would expect, was an inexpensive cut and should have been cooked low and slow. The consequent gristly offering defied consumption by human teeth.
As accompaniments we had roti which was heavy, thick and chopped into pieces too small to be useful in picking up food and special fried rice which was fine when drowned in soy with fresh chillies.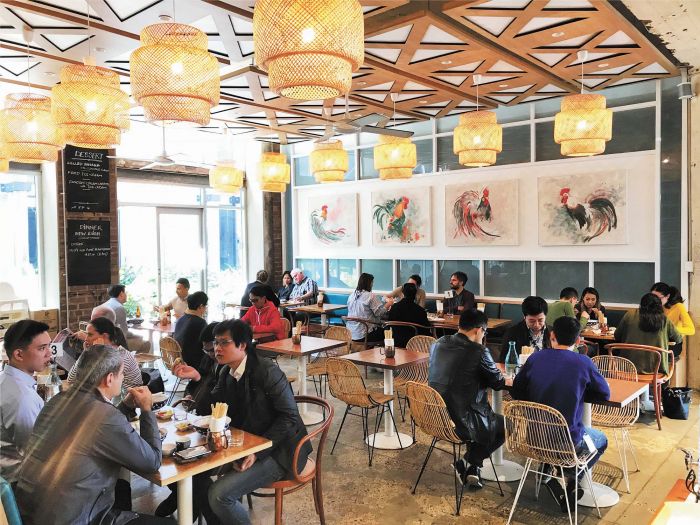 Nguyen Brothers
5&6/21 Fountain St, Alexandria 2015
Licensed: Yes.
Value: Solid value with quality at typically under $20 a main (whole snapper is more but usually a share plate).
Staff/ambiance: Staff are bright and friendly and the venue is fresh and stylish. The kitchen is in full open view with the take away counter at one end well out of the way of the diners.
With family: Kid-friendly with a few not so spicy options. They have a DIY rice paper rolls meal that gets the youngsters involved.
With friends: Great place to meet up and enjoy good food and company.
With a date: Warm and buzzy without being noisy. Share plates make for a great date venue.
Summary: Unless you specifically don't like Vietnamese food it's well worth a visit.
After the disappointment of my previous culinary adventure I decided to go somewhere tried and tested that has never disappointed me.
After enjoying success with their Marrickville restaurant, Nguyen Brothers opened a second venue about a year ago in Fountain Street, Alexandria. If you are nearby at lunchtime they do a tasty Vietnamese roast chicken roll and there is a great coffee shop in the same building.
For dinner there are a modest range of options that are all done well even if some are not quite to my palette.
We started with chicken and avocado rice paper rolls which were fresh and bright with a delicious dipping sauce (make sure you ask to have chilli included if you are up for it). We also ordered salt and pepper squid which was again freshly prepared and packed with flavour and didn't fail to satisfy my 8-year-old daughter's fussy palate.
For mains we ordered the five spice beef with noodles which drenched your mouth in exotic flavours both familiar and new. It was a generous serve and although not a premier cut the meat was tender and sumptuous. We also enjoyed the chicken and ginger fried rice (with egg) which was tasty enough for me to order repeatedly.
We topped off the meal with banana in coconut tapioca which isn't always on the menu but is always a scrumptious indulgence.
On a previous visit I heartily enjoyed the whole snapper, although I'm not a cooked fish fan. Vegetarians aren't well catered for but there are a few options available.