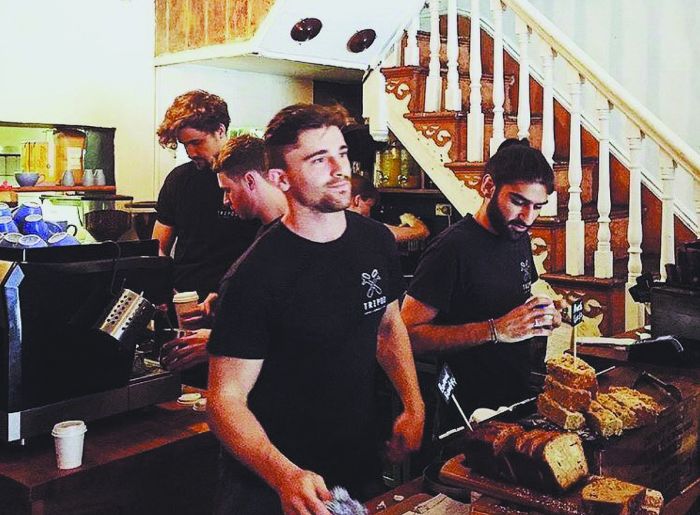 Tripod Cafe, 262 Abercrombie St, Darlington
Although offering a limited range of burgers, Tripod is well worth a visit. I ordered the Aussie Burger. It arrived in a basket: a large, succulent and juicy patty on a fresh damper-style bun, with lettuce. It almost defied being eaten in the hand. I must admit the Bacon Jam sounded great but it was a let-down. My gastronomic vego mate enjoys chowing down and highly rates their Tofu Burger. The beer battered fries are tasty and make for a wholesome feed. The home-made lemonade is worth trying as well.
Licensed: No.
Value: Good as inclusion of fries makes all the difference.
Staff/Ambiance: Humble and laid back with a country feel in the middle of the urban sprawl. Check out the courtyard for a nice change of scenery.
With Family: Why not?
With Friends: Casual and relaxed catch-up venue.
With a Date:? Maybe not that flash.
Summary: Balanced burger with the patty as the star.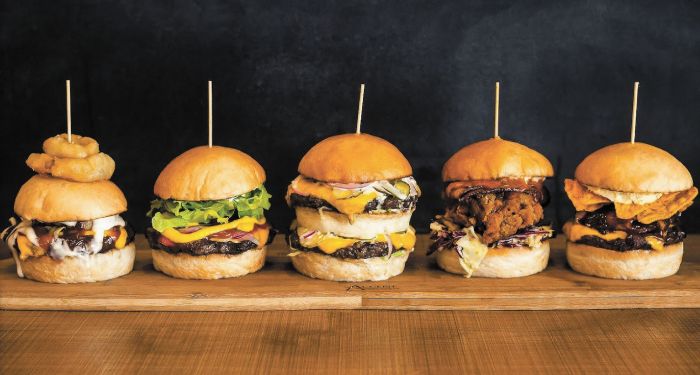 Milk Bar by Cafe Ish, 105 Regent St, Redfern
Licensed: No.
Value: Good to Fair.
Staff/Ambiance: Loud and not that inviting.
With Family: Why?
With Friends: Probably more for teens.
With a Date: No.
Summary: Recommend getting food delivered.
So what's the hype? Seems busy, got to be good, right? So I ordered cheese burgers (with a couple of variations), chips and milkshakes. After five minutes of re-explaining the order I sat at a table. I realised, as I peeled my forearms from the sticky table, that the venue was coated in kitchen residue smoke. I resigned myself to waiting quietly as the music was just a little too loud for conversation.
The milkshakes arrived and given the name of the place my expectations were high. I was disappointed; the shakes weren't especially large or cold or frothy. They did have a small donut ball stuck on the straw, but it was stale. Fifteen minutes later the chips arrived, and figuring the burgers would follow shortly, I decided to wait, and wait, and wait, only to have the burgers arrive with the order stuffed up. (Come on, how hard is it to leave the salad off one and substitute sauce for mustard on the second?) I sent it all back and asked for the fries to be brought fresh when the burger order was sorted.
By this stage I was determined not to enjoy the meal, only to be disappointed again. The burgers and fries arrived and they were delicious. That's right. YUM! Fries were crisp and battered up and the burger was tasty, with a buttery warm sweet brioche bun. There was a good balance of lettuce, juicy patty and condiments.