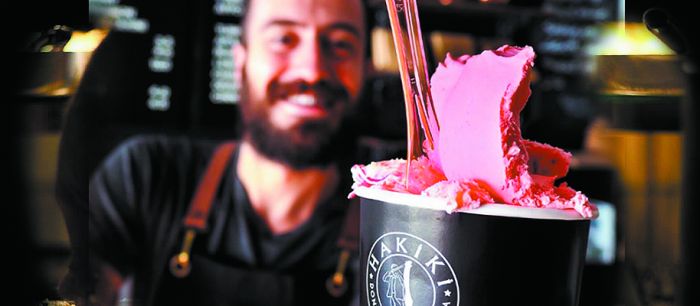 Turkish ice cream has a unique elastic texture, which although subtle, is a new experience for most of us. Made with mastic (a tree sap), salep (a flour made from the tubers of orchids), eggs and cream, this ice cream is rich, smooth and unique. Flavours like baklava, Turkish delight and coffee seem to pay homage to its origin. The venue also serves Turkish sweets and pastries and, as you might expect, Turkish coffee. The Turkish twist on marshmallow is a bit stringy but an interesting treat.
Gelato Messina
262 King St, Newtown
& 389 Crown St, Surry Hills
& 58 Mentmore Ave, Rosebery (factory)
Licensed: No.
Value: Fair.
Staff/ambience: Relaxed and friendly.
With family: Without a doubt.
With friends: Good fun venue.
With a date: Flavours are interesting and you'll both want to sample each other's choices. Coffee is also OK (and I'm a bit fussy when it comes to coffee).
It's hard to argue with the Good Food Guide, who gave Messina number one ranking for Australian ice cream and I give them a close second. I guess it depends on the flavours you choose. Both Messina and the next provider vary their range from season to season, offering interesting combinations of delicious treats inspired by global flavours, including dulce de leche (sweet milk) Italian nougat, pandan and lychee. Everything I have sampled was great here: well-balanced, full-flavoured and fresh, with chunks of goodness spread throughout.
Cow and the Moon
181 Enmore Rd, Enmore
Licensed: No.
Value: Fair.
Staff/ambience: Funky and hip with buzz. Seating is limited depending on the venue.
With family: Great but not for younger kids!
With friends: Thumbs up!
With a date: Great ice cream, though perhaps not a destination.
My number one ice cream. I actually started to salivate after writing their name. Unlike Messina, this place has stayed local and small. Not at all pretentious, it's fun and funky with small tables inside and on the pavement. The back wall displays multiple ribbons won at the Sydney Royal Easter Show. You might also notice a trophy on top of the ice cream cake display cabinet awarded by the Gelato World Tour in Rimini (Italy) for Best Gelato in the World. This was awarded for their almond affogato flavour.
All their gelati are brimming with flavours that drench your tongue in pure joy. They change their flavours regularly and I can't wait till next Christmas when I hope they bring back the gingerbread flavour. Most of their selections are full of treats such as chocolate pieces, honeycomb and fruit biscuits. You can choose from a range of flavours – Turkish delight, peppermint choc, strawberry balsamic, Anzac, dulce de leche, salted caramel banana, peanutzilla, raspberry cheesecake, cherrymania – and their Madagascan vanilla is testimony to why vanilla is the world's favourite ice cream flavour.
Their sorbets deserve a special mention as all are delicious. I tried the choc and had trouble believing it was dairy-free. The lemon is bright and refreshing. Worth queuing for on a hot Saturday night.
SPECIAL MENTION: Bar Italia, Norton St, Leichhardt.
In business since the 1950s, fresh classic gelato flavours and great coffee (no skim or soy milk). Worth popping in if you're in the neighbourhood.