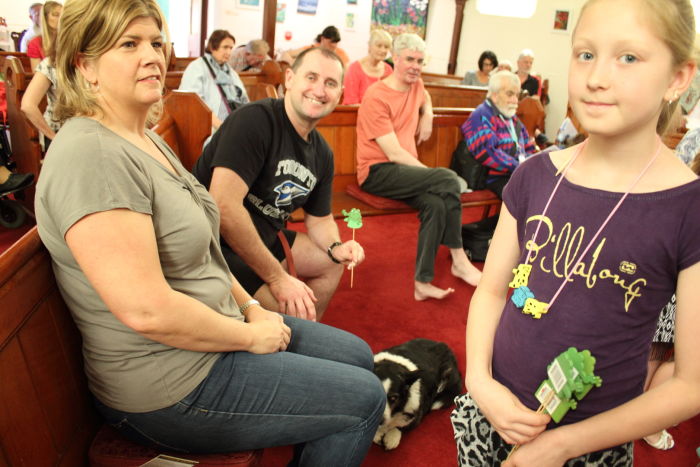 There were about 60 creatures present at this year's service: humans, dogs, photos of cats and even one axolotl. The nine chickens and four ducks in the Eden Community Garden behind the church also received a blessing.
Ivana Prazic of Glebe was present at the service. "I was here for my two cats Lilly and Mr Darcy. I especially came because Lilly is actually dying and needs extra care and love from every single source she can get." Ivana brought along a photo of her cats, which was placed on the altar table in the church together with pictures and collars from about ten other cats. She commented: "It is nice and generous and kind that people want to share their stories about their own animals and think of each other's animals. By focussing on animals and enjoying animals' love we realise that we as humans are not the centre of the universe."
Liz Boag from Boag's Newsagency in Waterloo, a volunteer with MDR for about 20 years, addressed the congregation and explained the work done by the organisation. MDR rescues dogs from "death row" at various pounds around Sydney and then carefully re-homes the dogs. Many of the dogs stay at the MDR shelter in Ingleside, however a large proportion are fostered in homes by caring volunteers. MDR has also recently begun to rescue cats.
Every Saturday the organisation sets up a customer service stand outside the Pet Barn store in Alexandria. The volunteers usually bring along four or five rescue dogs to interact with visitors to the stand. There are small cages at the stand to house the dogs during the day, however these dogs are rarely in the cages, spending most of the time receiving individual attention and being walked by a small team of volunteer dog walkers.
Yulius Santoso of Kensington has worked for ten years as a volunteer at the stand. Yulius said he became involved with MDR when he first fostered and then adopted a rescue dog. This dog, named Miriam, spent the last ten years with Yulius and was the centre of much love and adoration, but unfortunately she passed away a couple of months ago. Yulius is currently still grieving the loss and said he is not ready to foster or adopt another dog just yet. When he first received Miriam, he had to help her to learn to socialise with other dogs: "That was her main problem when I got her."
Yulius is proud of his work for MDR: "Someone has to stand up for dogs. They are selfless and unconditional in their love. MDR is self-funded and relies on volunteers. I really believe these dogs deserve a second chance. People always think it is hard work looking after rescue dogs, however the benefits outweigh the troubles."