CHIPPENDALE: Spot 81 at 81 Abercrombie Street is opening its wide doors to the public on July 9 with its inaugural exhibition, Out of the Blue, featuring works by artists including David Aspden, Paul Connor, John Firth-Smith, Bert Flugelman, Graham Kuo, Amdrew Nott, Ann Thomson and Annie Hsiao-Wen Wang.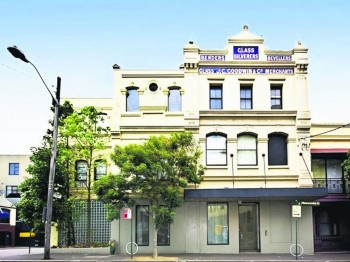 A new art gallery and shop with unusual handmade items and select gifts, this new addition to the "Central" Sydney Art Quarter is set to become a favoured destination for art activities.
The exhibition schedule will reflect the myriad possibilities of Australian visual artists with solo shows complemented by curated exhibitions both within and without the normal framework of a traditional art gallery. Spot 81 will work to foster an artistic community with regular events such as workshops and studio visits, discussions, film nights and evenings of music and dance. Open to all areas of art and design, the gallery will host specialist exhibitions through invited curators.
The gallery boasts an impressive stable of arts practitioners working in diverse media including painting, sculpture, printmaking, works on paper, book arts and new media. Represented artists include Paul Connor, Penny Coss, Roslyn Kean, Graham Kuo, Peter Pinson, Ron Royes, Braddon Snape, Jane Valentine and Annie Hsiao-Wen Wang.
At Spot 81 you can find an artistic gift or keepsake, selected books/catalogues, limited edition prints and cards, or staff can assist you with the purchase of a painting, sculpture, print or drawing for your personal, corporate, or public collection.
Spot 81 is operated, managed and curated by Michelle Perry, who for a number of years has run successful commercial art galleries, the latest being Syndicate at Danks in the creative arts complex at Danks Street in Waterloo. Perry is known as an artist and tertiary teacher in her own right and has, most significantly, been recognised as a leading Sydney printmaker for many years under the banner of Marnling Press, printing and publishing limited edition silkscreen and relief prints by leading Australian artists. Among the artists represented in the Marnling Press collection are Charles Blackman, John Coburn, Fred Cress, Robert Dickerson, Peter Kingston, Robert Klippel, Graham Kuo, Alun Leach-Jones, James McGrath and Ann Thomson.
Spot 81 is open to the public from Wednesday July 9. All are invited to experience and enjoy this new art gallery and shop. The gallery is open Wednesday to Sunday between the hours of 10am and 5pm.