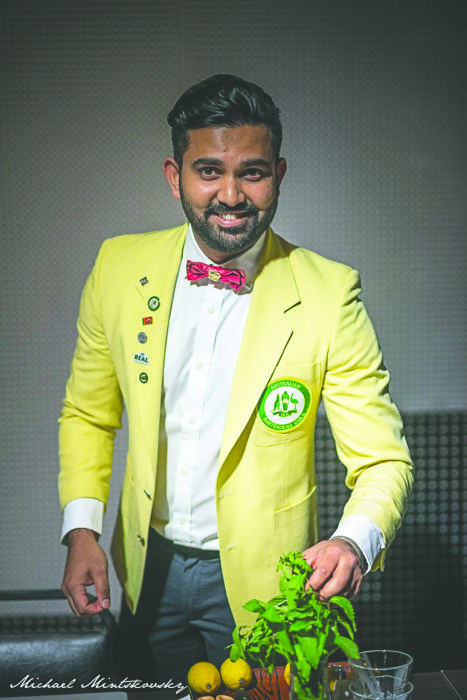 Undertaking this competition was no easy feat. First Dula had to triumph in the Australian national finals, held in June of this year, where he won the cocktail competition with his Herradura tequila-based tiki cocktail.
He was then entered as the single competitor to represent Australia on the world stage. Dula attended the week-long congress, held in Bulgaria's capital Sofia, with representatives from the Australian Bartenders Guild. Dula was able to take in all of the cultural appeal that the country had to offer, and extend the friendship and hospitality that Australians are renowned for.
Sponsor companies for the competition included: Finest Call, Routin 1883, Fabbri, Angostura, Havana Club, Finlandia, Monin, Grand Marnier, Beam Suntory, Real and De Kuyper. Competitors got the once-in-a-lifetime chance to learn from and mingle with the representatives of sponsor companies, such as the Master Distiller and CEO.
Dula conducted himself charismatically and professionally in a speech on the inspiration behind his rum-based after-dinner cocktail. Having only seven minutes to make five identical drinks to his cocktail recipe, Dula made every second count. He placed his final garnish with moments to spare, while the judges watched for deductions, ranging from spillages to lack of elegance.
After what seemed an eternity, Dula was invited onstage to the sound of Queen's "We Are the Champions". He was presented with the IBA prestige award, an award that industry professionals strive their entire careers hoping to receive. Dula is now ranked the best technical bartender in the world.
So what's next for Australia's champion? In the future Dula hopes to bring Australia further into the spotlight for our cocktail finesse. Speaking about the 2016 championships to be held in Tokyo, Mr Lorensuhewa says, "We have a lot to offer, and I want to make sure that we are not just there to take part, but to take over!"