The first one, Il Vizio, was established when the Norton Street Plaza in Leichhardt was built. It is in a corner close to Coles, some of its seating more obvious and some more private. I like the secluded area and soon found myself regularly occupying the same table. Quite quickly, I began to know the names of its staff: Abe, its manager and barista and his cooks and waiters – Anna, Anish and Ben who have been there for several years – plus new arrivals like Olivia. While much of the cafe food is prepared on the spot, most of the morning and afternoon tea "treats" are made by Abe's wife. This personal touch really distinguishes Il Vizio.
On entering the cafe and settling at my table, I say, "Hi, Abe" as I pass the counter and then greet any other of the staff that I can see. In a few minutes, Anna will say, "Your usual, Dorothy?" I look around me and almost always see a few regulars. We greet each other and often exchange a few words about how we are and what we are doing today. None of them are intrusive – just welcoming and friendly.
When my beloved partner was dying of brain cancer and I was still caring for her at home, she would often send me round to Abe's to relax. When I arrived, someone always asked how Ali was going and I felt cared for and comforted. This place was one of my special communities and it still is, now that I live on my own.
My other special cafe – Tripod in Abercrombie Street, Darlington – is near where I work for my church and the South Sydney Herald. I have been going there almost every week for about 14 years. Originally I would meet my friend and original editor of our paper, Trevor Davies, there and we would share ideas and exchange lists of things which needed to be done. Trevor knew all the Tripod staff and soon I did too.
When Trevor died six years ago, I continued to meet there each Sunday with other friends. My partner, Ali, who was the volunteer photographer for our paper, would also come to Tripod when she was in the area and it became a special place for us to relax together.
Tripod was originally established around 30 years ago. In 2007 James took over. He was only 22 years old and said that he had a lot to learn. In this, he was assisted by barista and soon-to-be co-owner Brad. However, one thing James did well from the beginning was to relate in friendly ways to his customers.
Apart from the fine coffee, tea and food, his unobtrusive but welcoming manner quickly attracted more people to the cafe. Now they are serving, in one day, more people than they had previously done in a week. Obviously, being manager of a cafe takes a lot of energy and time and James says he could never survive the challenge if it were not for the daily support of his partner, Lee.
I keep going to Tripod and regard it as a significant part of my life not only because of my memories of being there with Trevor and Ali but also because it encourages the work of our paper. We meet with our writers each month as they choose what stories they want to cover. On some occasions we have had celebratory gatherings in Tripod to reward our many volunteers who write and distribute for us.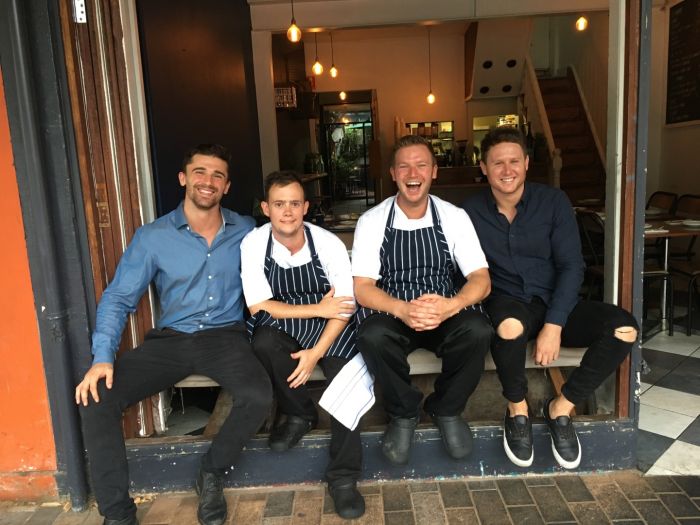 When I leave either of these, my special cafes, I go with a lifted heart and renewed in strength and hope. I want to recognise more clearly that so many of these hard-working hospitality staff add much to the life of the community. I celebrate that these places often become like family to us in unexpected ways. Many thanks to each of them for all these gifts!