The inaugural Blak & Blu art award for ink on A4 paper nears its official launch.
Inspired by 19th-century Kwatkwat (north-eastern Victoria) artist Tommy McRae, whose sketchbooks feature drawings of birds, hunting scenes, dances and corroborees, squatters and streetscapes, Blak & Blu is a grass-roots community event nurturing social comment.
We all know the value of a great doodling on paper, whether it be a rough idea, a brainwave transferred to a coaster or a designated party activity. A drawing that feels good makes one feel proud. Some may be able to create an A4 drawing in under a minute, whereas others chip away at a piece over consecutive evenings after dinner. Whichever, we encourage the practice and choose to celebrate the commitment through this prize.
Co-devised by artist Blak Douglas and the reverend-editor Andrew Collis, the concept evolved over coffee in downtown Cadigal Country – Redfern. Friendship between Andrew and Blak had developed over previous years through a mutual love of art. This would lead to Blak's seasonal cartoon entry to the South Sydney Herald – a strip featuring the wondrous adventures of Redfern Park's own celebrity ibis named Gunyadyu. Throughout the course of his tenure, Gunyadyu covered a diverse series of topical subjects. From politics to Christmas, one would find the cheeky bird in all sorts of predicaments.
Cartooning – the breeding ground for our earliest creativity. For myself, it began with dinosaurs, trucks, and then caricatures. The latter became a distinct focus, most likely prompted by my fascination with the crossword and cartoon strip page in the major papers. I would fastidiously collect them, glue them into a scrapbook and file the books as though they were annual accounting ledgers. I would practise until I could reproduce the characters as if I were the artist I admired. Of course, once I had mastered my favourite characters, then a tailored cartoon strip could develop.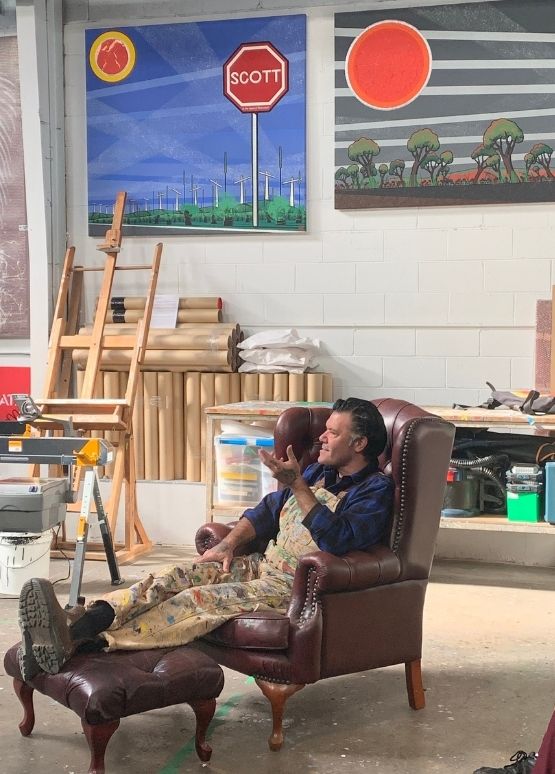 Receiving entries from community members spread throughout the SSH's demographic has been a veritable "lucky dip". The first year has demonstrated a surprising variety and various age groups. Community concerns include First Nations and climate justice, issues around gentrification, homelessness and affordable housing, racism, and the pandemic.
Figuring we may attract efforts from our junior community artists, I sought the generosity of Parkers Framing & Art Supplies who agreed to donate a fantastic artist's pack. This shall be awarded to our "youth category" winner while the main award of $1,000 shall be granted to our chosen adult artist.
We are honoured to have the commitment of an extraordinarily talented artist and multiple Archibald Prize Finalist – Kathrin Longhurst. Kathrin shall announce the award recipients at the launch. We look forward to seeing you there.
_______________
Blak & Blu
December 11, 2021
2-4pm (live via Instagram at 3pm)
The Orchard Gallery
56a Raglan St Waterloo
@theorchardgalleryau