On June 14, 107 Projects was buzzing with members of Young Labor who had, with a couple of local branches of the Party, organised a lecture in honour of Trevor Davies' contribution to the Australian Labor Party. The lecture will be an annual event and Steve Murphy, the AMWU (Australian Manufacturing Workers Union) National Secretary, presented the inaugural lecture, "How to build effective grassroots coalitions between unions, the ALP and the environment movement".
As people began to gather they sought out and browsed through copies, which we were invited to spread around the venue, of the South Sydney Herald (Trevor was SSH founding editor).
Proceedings began with an Acknowledgement of Gadigal Country by Aunty Norma Ingram, a well-known local Wiradjuri woman who has spent most of her life in Redfern.
Robyn Fortescue introduced Trevor (also the South Sydney Herald's founding editor) to those present who hadn't known him personally. She was one of the branch members who campaigned hard for the Darlington branch, of which Trevor had been the long-term Secretary, to be re-named in his honour. It is the only ALP branch in the country to be named after an individual.
Trevor served on the governing bodies of many local groups and organisations from South Sydney Community Aid to South Sydney Uniting Church and helped establish many others, including Residents in Defence of Darlington as they stood up to further encroachment into the suburb by Sydney University and managed to ensure that the Business School on Abercrombie and Codrington Streets incorporated modifications so it was built around the mature tree on the corner.
Robyn spoke of Trevor as a man who cared deeply for his community and would work with all sides of politics but emphasised that everyone knew he was a Labor man. His two beliefs were in Jesus Christ and the Labor Party. Whether he was working for South Sydney Council as a street sweeper or as he sat outside the café at the Darlington shops with his shopping trolley, taking a break from delivering the latest issue of the South Sydney Herald, he used every opportunity to talk to people as they walked through his community.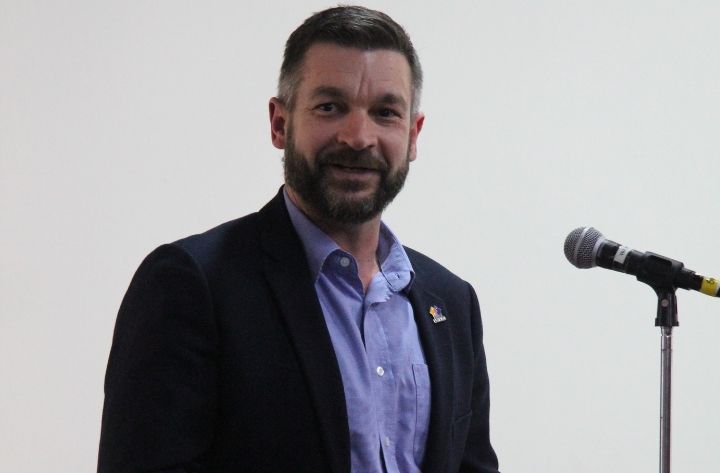 Robyn explained how, in the 1990s, Trevor's connections led to him starting Chippo Politics at the former Thurles Castle Hotel on Cleveland Street. He cajoled people, no matter how important they thought they were, or where they stood, to come and talk on Sunday afternoons, including Father Bob who came up from Melbourne, Alan Jones, Bob Ellis, Richard Glover, Piers Ackerman, Mungo MacCallum, a very young and new Tanya Plibersek who hadn't yet been elected to anything and the cartoonist Bill Leak. Chippo Politics News came out those afternoons, written up by Trevor and photocopied at one of the union offices.
Trevor was concerned that the mainstream media either didn't cover his local community and take its issues seriously or only reported bad news stories so, after a couple of different iterations where he drew on his local community for support, 20 years ago in 2002 he took the idea of a local independent community newspaper to the South Sydney Uniting Church which has been its publisher since.
_______________
Support Trevor's legacy and keep local stories live by donating to the SSH.