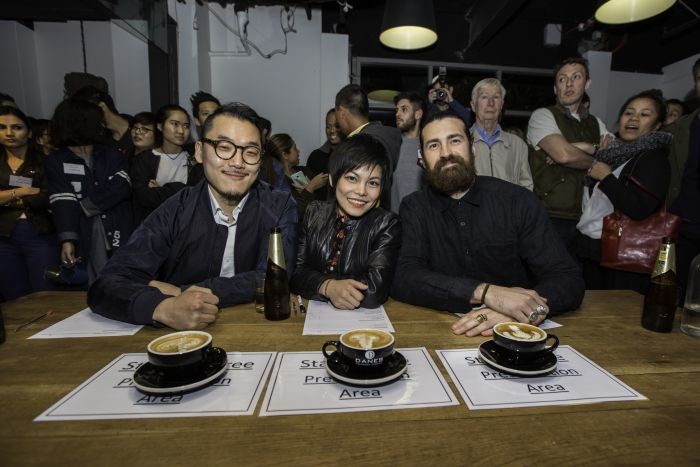 The atmosphere was electric with the fast paced heats and the spectators all in awe of what nimble hands and precision pouring can create.
The judging panel was made up of Jibbi Little, the 2014 NSW Latte Art Champion, World Latte Art Champion Caleb Cha, and Sean McManus from Surry Hills' own Single Origin Roasters.
With 36 competitors in the qualifying rounds, in groups of three and a time of one minute 40 seconds to recreate a design randomly selected by an electronic wheel (something as imaginative and terrifying as it sounds) across two cups of coffee, and then carefully place the cups in a marked out square atop the judges table, I wondered how much harder the competition was going to get.
Turns out tremendously so. Each of the 12 baristas who made it to the semi-final rounds had their work cut out for them, having this time to create two different designs, one from the electronic wheel and one of their signature design to be submitted in a hard copy alongside their coffee cup for the judges to scrutinise.
Finally, down to four; the grand final face off round wherein one competitor was charged with setting an altogether new design that the remaining three competitors had to replicate. The final was as nail-biting to watch as I can only imagine it was impossible for the judges to announce a winner.
But announce a winner they did. The judges decided in favour of Sam Taylor of The Baron in Castle Hill, who took out the coveted title of Grand Latte Art Champion, a cheque for $3,000 dollars, and the well-deserved admiration of the crowd.