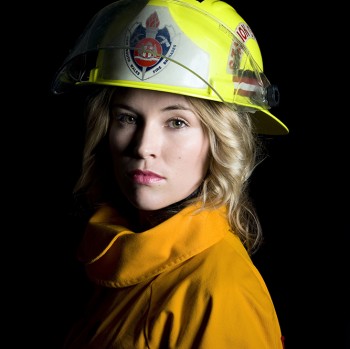 Women In Uniform presents portraits of powerful, beautiful women attempting to break the glass ceiling of traditionally male dominated careers such as pilots, trades, the police force and the defence force. The series explores themes of voyeurism, feminism and sexuality. 
When trying to source authentic uniforms for this series, photographer Marnya Rothe was surprised to find it extremely difficult. After approaching numerous costume stores she was always asked the same questions: "Would you like sexy cop? / sexy firefighter?" When she replied: "No, I am after an authentic police uniform for a woman" [for example], the answer would follow: "Sorry, we only have authentic male uniforms." And so it went with every request.
With these portraits Rothe has created dialogues between the subject and the viewer. Questions are posed: Are they sexual objects? Are they weak? Are they powerful? Are they vulnerable? Are they role models?
Marnya Rothe is a Sydney-based fashion and headshot photographer providing portraits for actors, musicians, theatre, film and corporate industries. She has exhibited her work in both solo and group exhibitions. She has been shortlisted for the Head On Portrait Prize in 2012 and 2011; as well as a semi-finalist in the 2012 Moran Contemporary Photographic Competition.