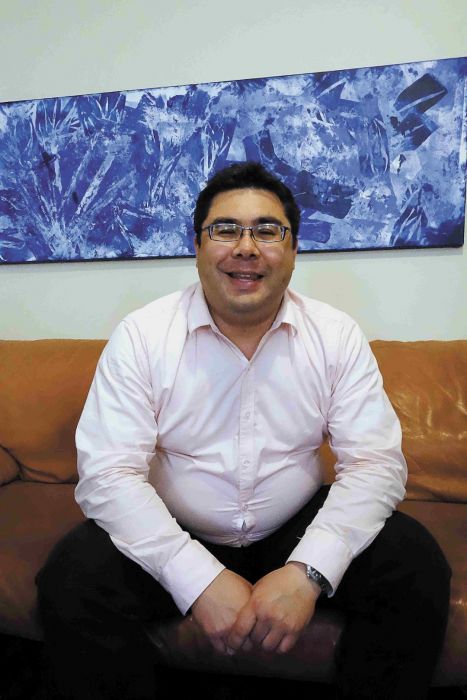 Henry Kazuo Bluhme was born in 1971 in Royal Canberra Hospital to a Japanese mother and a German father.
He is the older of two sons and as a child spent extended periods of time in Europe while his father moved around with his academic and research work.
When Henry got a public housing tenancy in 2010, he moved from a boarding house in Surry Hills to a flat in Wellington Street, Waterloo.
"And that's a good thing," he says. "It gives me some peace of mind, I know where to go and where to stay."
"It's a double-brick building and a double-brick building is something very special because there are a lot of people in Australia, they have million-dollar homes, but they are made of weatherboard and they have to pay huge amounts to reimburse the banks for the interest, and later on they have to pay the money back for the house, and that takes a long time.
"I have just by chance, just a blessing, received a small dwelling to live in and it's good. It's good. I am very grateful for that."
Like Anna Kovic in last month's issue, Henry loves the convenience of living in Waterloo. There are two bus stops outside his home, the one outside his front window takes him to ALDI in Bondi Junction and the one outside his kitchen window takes him to ALDI in Marrickville.
While he loves the convenience of living in the city, the downside is the noise and the building and earthmoving work that is currently associated with the construction of Waterloo Station.
Henry spends as many days as he can at Counterpoint Multicultural Services (CMS) in Alexandria using their computers to undertake an International Baccalaureate Diploma Program.
Counterpoint's operations manager Bill Yan provides support for Henry as he sits exams, prints out his work and posts it to Germany for marking.
Henry is aware that an academic degree is not a guarantee of a job, but once he finishes his IB he would like to study linguistics at the University of Sydney.
He says that CMS is also a place that provides advice for community members especially when they need to deal with government administration.
A member of the Locksmiths Guild of Australia, Henry has a security industry licence. He makes sure that he is up-to-date with technical security information and at night he is on standby as a locksmith.
Like both Anna Kovic and T-Bone (SSH April 2018), Henry is concerned at the lack of information provided by the Land and Housing Corporation to tenants within the Waterloo redevelopment precinct. To date Henry has not received any information as to what might happen to him.