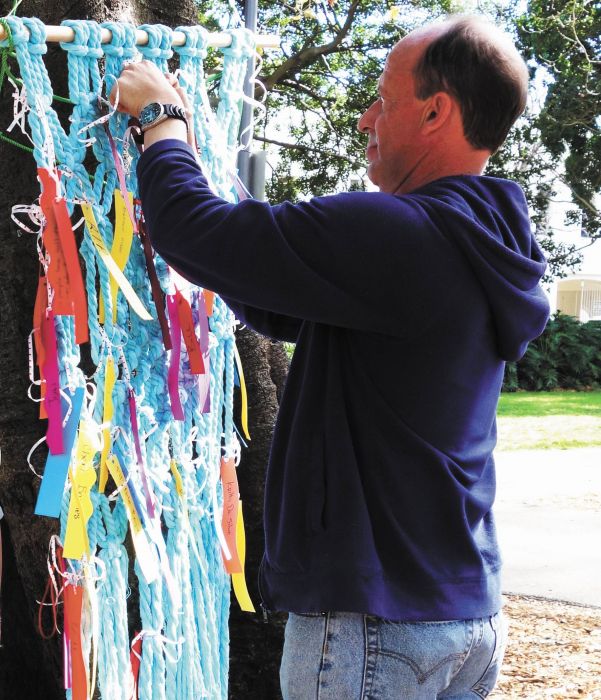 Led by Anne Jordan, a Presentation Sister and spiritual head of Cana Communities, the ceremony incorporated readings, songs and prayers. Volunteers and some people currently experiencing homelessness took part. At one point participants wrote the name of a person who had died on a brightly coloured card which they attached to a macramé art work [a stunning piece by Melissa Carey].
The ceremony continues the tradition begun by churches and missions which kept vigils, usually during the coldest months of the year, to remember people who had died on the streets. Over time the practice became formalised and has become the weeklong event called Homelessness Week, a time to raise awareness and inspire action on behalf of those experiencing homelessness. This year that week fell between August 7 and 13.
Usually the event the media covers is the St Vincent de Paul Sleepout, which raises money by way of CEOs spending a night out in the cold. Money raised goes towards homelessness services. This year, however, real homeless people sleeping rough hit the headlines.
Over six months, a tent city for homeless people in Martin Place existed opposite the Reserve Bank building and across the way from the State Parliament, the Sydney Hospital, and the Law Society of NSW.
The last few weeks saw a stoush between the state government and the Lord Mayor of Sydney as to who was responsible for relocating the homeless protesters. The Lord Mayor, Clover Moore, refused to move them until there was guaranteed accommodation for them and Premier Gladys Berejiklian passed legislation empowering police to move people and goods from public reserves.
With the threat of forced removal a real possibility the homeless people themselves disbanded, in Homelessness Week – on Friday, August 11.
Currently in NSW over 28,000 people are homeless. There are many causes of homelessness, including domestic violence, relationship breakdown, loss of income, mental health issues and lack of affordable housing.