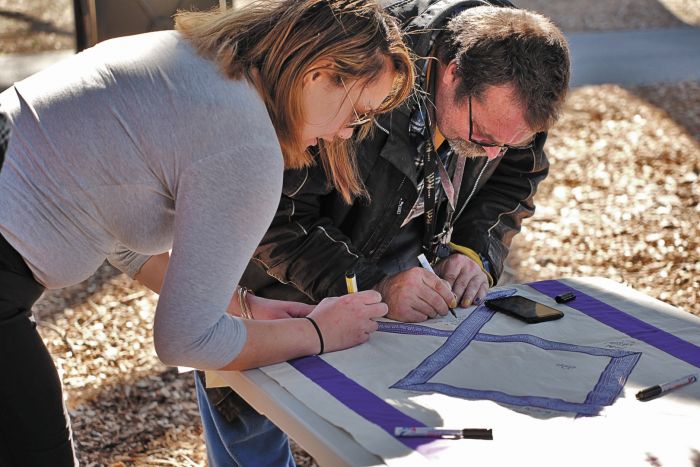 Sister Anne Jordan, co-founder of Cana Communities, led the memorial, which began with an acknowledgement of Gadigal sovereignty. She continued, "[This] land is now home to many from all corners of the world … [and] home to many who are homeless." The sentiment resonated with all in attendance, some who have spent sleepless nights on the streets and others who work in the local community to alleviate homelessness.
The service included a message from the Rev. Andrew Collis from South Sydney Uniting Church, who spoke poignantly of the "godly freedom to be there for each other" in times of need.
To commemorate lost loved ones participants decorated a special cloth with names and messages. The cloth will be part of future prayer gatherings at Cana Communities houses and events.
At the end of the ceremony thanks was given to the Salvation Army, South Sydney Uniting Church, Cana Communities, David's Place, Jesus Cares, Matthew Talbot Hostel, Urban Ministry, Wayside Chapel, Wesley Mission and Hope Street at Woolloomooloo Baptist.
The local groups collaborated on a series of events during Homelessness Week and will continue to work together so that fewer lives are lost to homelessness in the future.