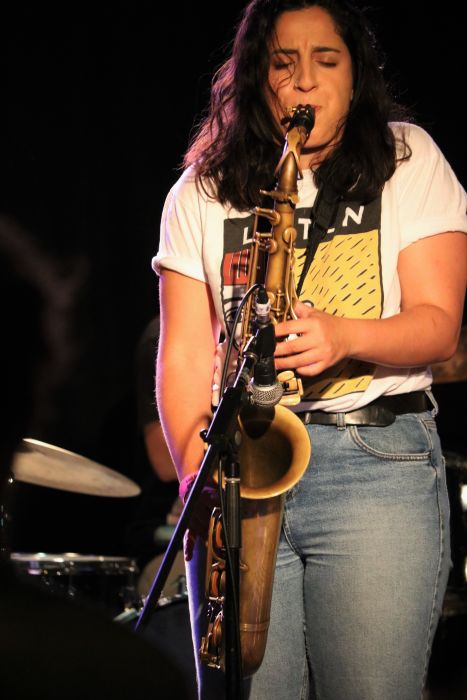 Women within the Sydney music community say this behaviour is systemic of a broader issue, a patriarchal industry that can be tough to break into.
Sydney based collective the Sad Grrrls Club is working to address this gender imbalance by providing safe spaces for non-males (female, non-binary or gender-non-conforming) to participate in music as performers, professionals and spectators.
On Saturday October 8, The Sad Grrrls Club held Australia's largest female-fronted music festival at the Factory Theatre in Marrickville.
Courtney Luzmila performed solo as La Vif early in the day and later played drums with festival headliners, Le Pie. Luzmila said attitudes towards female performers can be dismissive: "Too often women are held to a different standard than male performers."
Siobhan Poynton of Sydney punk band Scabz echoed the double standard that exists. "It's like we are expected to be twice as drunk, twice as tight, twice as funny and bring twice as many people [to a show] just to fit in with 'the boys'," Poynton said.
Even though Scabz weren't on the line up this year the band acknowledged Sad Grrrls Club events are important because they provide an environment where young bands know they will be accepted and supported.
Women starting out on a career in music may encounter obstacles that men performing the same role might never imagine says Monika Lackmann, a music writer who has been involved in the Sydney music scene since the 1980s. Women can be discouraged because of negative experiences early in their participation in the music industry.
It was early experiences of attending shows and feeling unwelcome that inspired Rachel Cox to create The Sad Grrrls Club. "While it might not have been stated explicitly, there was a sense that as a woman you needed to work harder to prove that you deserved to be there," Cox said.
Cox supports bands that call out inappropriate behaviour, saying "it will encourage others to speak out". Monika Lackmann agrees, saying it is important for bands and especially males in bands to be "pro-active in nurturing an inclusive environment at shows".
Clinical psychologist Gunter Swoboda observes that gender bias in the music community is indicative of an aggressive patriarchal system.
Swoboda runs a program called "Making Good Men Great" and says there is a "real need for men to re-think their own masculinity and how it's expressed". He said this starts with a focus on educating young males about diversity and promoting greater inclusion.
Maddie Mallis performed at the Sad Grrrls Fest with her band Jackie Brown Jr.
After her performance she spoke about the importance of the Sad Grrls Festival in bringing girls to the front. Mallis said "the fact that this festival needs to exist" is important because it sparks a discussion about festival line-ups at local and national levels becoming more inclusive.