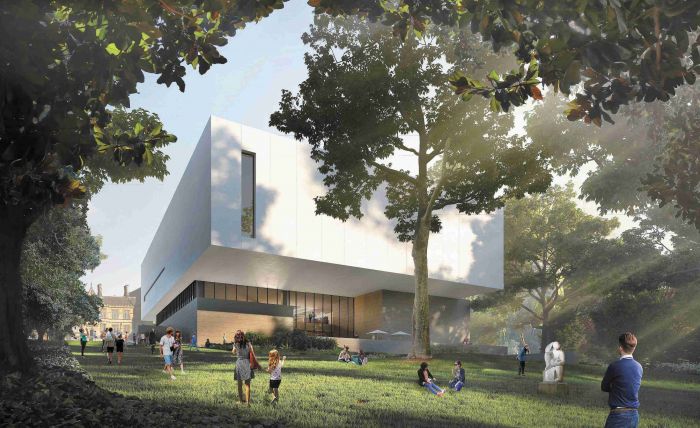 We are excited about the new museum that will consolidate the University's existing Macleay Museum, Nicholson Museum, University Art Gallery, and the Museum's Collections into one dynamic new building.
The new Chau Chak Wing Museum's exhibitions, programs and onsite collection will see the University enhancing and celebrating the relevance and significance of our unique collections of great cultural, artistic, scientific and historical significance. We will soon be able to host major travelling exhibitions from first class international and national collections and the new museum will be a cultural destination of local, national and international significance located in the middle of the South Sydney Herald's circulation area.
The proposed site for the museum is located in the northeast of the University's Camperdown campus adjacent to the University Avenue entrance, and the building's design is the result of extensive site planning and careful consideration that responds to the surrounding heritage items and landscape elements of the campus.
The new building will comprise the construction of a new five-level building, with a maximum three levels above ground. The design includes a central void consisting of an entry foyer and museum, shop, gallery space, education, research and conservation facility space, collection storage and workshop areas, staff offices, facilities and boardroom, study rooms, schools education area, a 130-seat multi-purpose room and a café and terrace facilities.
The new facility will provide a forward-thinking and innovative cultural and intellectual space for exploration, engagement and research at the University as well as offering an exciting museum for the public to come onto campus to see our significant collection of antiquities and other memorable exhibits.
Like our current Nicholson Museum that has been recognised as one of the top ten free museum experiences in the world, admission to the Chau Chak Wing Museum will also be free to ensure that everyone has access to this fantastic new facility.
The project will also generate employment opportunities with an estimated 660 full-time jobs being created through the construction of the building.
e will keep you informed on the progress of this remarkable proposal that will provide a museum that will be easily accessible by the campus population, local community and visitors alike. We anticipate that the Chau Chak Wing Museum will inspire and showcase the rich cultural heritage of the University as well as displaying the University's vision for the future for generations to come.