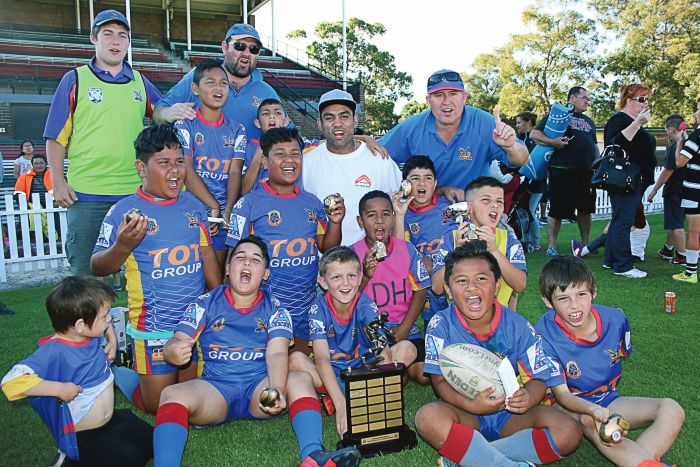 Over 250 kids from all over the state and the ACT turned up to battle it out for the annual gala day.
The Nathan Merritt Shield is an under nine years of age, nine a side comp, which allows the boys and girls to have a day of footy during the off season, plus it allows Nathan's junior club the Alexandria Rovers to honour one of its favourite sons.
The day had four teams of four in each pool. Each team played each other once in their pool and the two top teams in each pool progressed to the knock out stage. The four teams who won through to the semi-final all won their individual pool, setting up two semi-final games which were played at the highest standard. All four teams deserved a place in the grand finale, but there could only be two teams: St Johns Eagles vs La Perouse.
The final was played at a cracking speed in very hot conditions and the kids went hard all game. The standard of play on show made you think these kids were all older than 9 as they had the skills of boys and girls who have been playing for years.
St Johns won the game 18-12 and were well-deserved winners, while the kids from La Perouse played five outstanding games to get to the grand final.
All 16 teams received t-shirts and hats donated by the major sponsor, Boomerang Batteries, and the Alexandria Rovers topped it up with medals for all players from the 14 teams and individual trophies for the players of the two grand final teams.
The day was a huge success, which couldn't have been so without the volunteers who helped keep score, work in the canteen, cook the BBQ and clean up at the end of the day.
Planning is already on the way to make the 2017 Nathan Merritt Shield even bigger.