Neither a western nor a thriller, A Gun in Each Hand is a witty, sympathetically observed and gentle satire upon the contemporary middle-class male with beautifully nuanced performances by an ensemble cast of mostly well-known Spanish actors.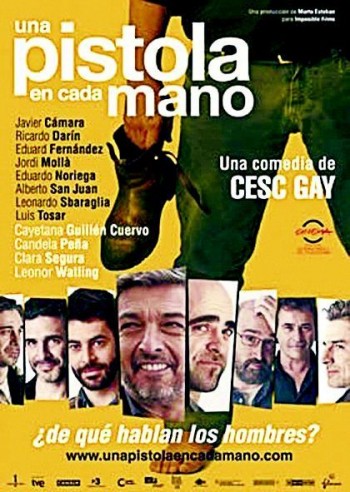 Set in Barcelona, it is basically a series of encounters between men in their forties, each suffering an identity crisis, counterpointed by their encounters with women, who by contrast, are confident and self-assured.
To underline the contrast each of the eight men are known only by an initial, while the four women have a frequently used given name.
The universality of the men's predicament is well illustrated through their diverse physical appearance and the distinct impression made by their style of clothing, mannerisms and different personal circumstances.
Having lost the traditional "action man" role inhabited by previous generations, the modern male has yet to find himself at ease with his new role as expresser of emotions, as care-giver and as nurturer.
This loss of a recognised "place" is well conveyed as each man-to-man encounter occurs in a public place, a foyer, a park, with the street and passers-by as an intrusive background.
The full interior of a family home in warm yellows and rosy pinks is shown only once and then as a reminder of what S (Javier Cámara) gave up when he left his wife, Elena (Clare Segura) and child for another woman.
The affair over, he longs to be accepted back, to find himself by a return to his past.
A return to a past male role is made by P (Eduardo Noriega) as he attempts a sexual encounter with a female colleague, Maman (a standout performance
by Candela Peña).
A surprise is in store for both S and P.
The tongue-in-cheek criticism of the men's shortcomings is perhaps best expressed in a conversation between A (Alberto San Juan) and his best friend's wife, Maria (Leonor Watling).
She wants to know what kinds of things he and her husband talk about.
"Important things," A says, "Not like you women."
Cheerfully, Leonor agrees.
"Yes," she responds, "you're right. We just talk about our partners."
He does not get it.
At the close of the film all eight men are bought together at a party.
As they hover in the kitchen, surely an indicative setting, their conversation suggests that there can be a way forward into self-hood if they are open to change.