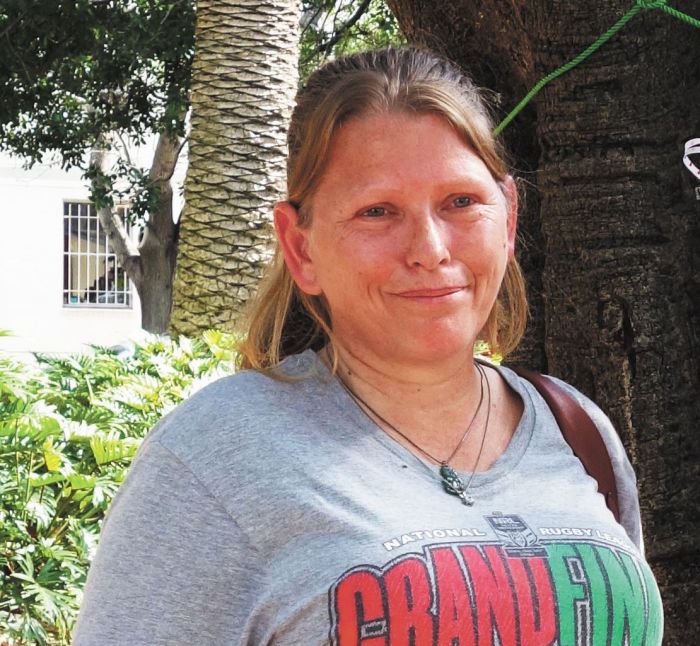 AnneMarie, at Redfern Park on Friday August 11 for a ceremony to honour recently deceased "street people", has herself experienced homelessness. Originally from New Zealand, she arrived in Australia as a 23 year-old. She lived in Darwin and Newcastle before moving to Sydney, where, she says, as a result of getting involved in drugs and alcohol, she became homeless.
"I know many [homeless] people who have passed away and I could have been one of them."
Over the years, AnneMarie did a lot of couch surfing and lived in numerous boarding houses. In 2002, when she initially got housing through the Department of Housing, she found that she couldn't settle. She felt confined within the four walls, which meant she spent a lot of time outside.
She has a Certificate 3 in Nursing from Ultimo TAFE (1999) and a Certificate 2 in Hospitality through a TAFE accredited course taught by Aunty Beryl Van-Oploo (2009). For a while she worked in a nursing home but found that her drug addiction meant she kept taking time off from work. Although she has put her name down at a number of cafes in the area, she has not been able to find work in hospitality.
She supplements her income by selling copies of the Big Issue, a magazine sold by homeless, marginalised and disadvantaged people. She hasn't been selling through winter because she has found it too cold, but she has been working at the Women's Subscription Enterprise, part of the Big Issue, where she works with other women packing magazines to be sent out to subscribers.
AnneMarie also suffers from depression and anxiety. She tried for many years to get over her addiction and found it very difficult, but ever since she went to rehab in 2011 she has been clear of drugs. She said, "I'm really proud of myself, the work I've done so far. I have bouts of depression and I don't want to do anything. It's like a season, one week down, one week back."
A dedicated supporter of the Rabbitohs, she was overjoyed when her team won in 2014.
AnneMarie is also keen to volunteer because she wants to be a part of the community make a contribution. She has recently joined the South Sydney Uniting Church. "These days I enjoy the beauty in everything," she said. "And I love the community spirit."