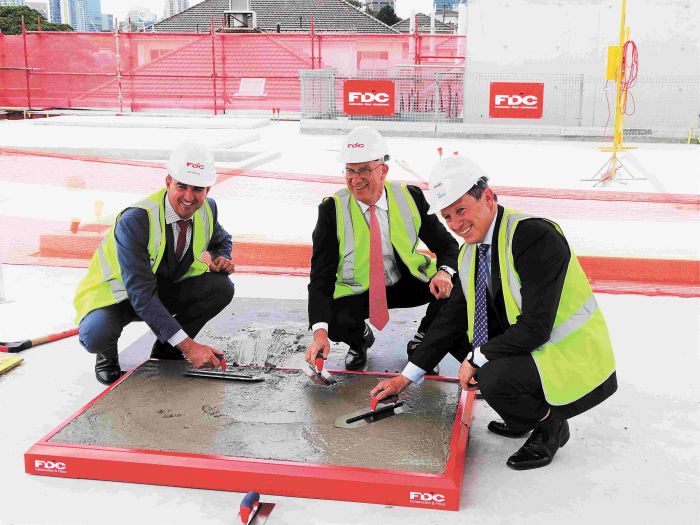 We recently celebrated "topping out" ceremonies for our Administration Building located on our Eastern Avenue entry and our Faculty of Arts and Social Sciences (FASS) Building at our Ross Street Gateway. Topping out ceremonies celebrate a project milestone in the construction of a building and are traditionally held when the last beam (or its equivalent) is placed atop a structure during its construction. For our Administration and FASS Buildings, this milestone was the completion of the concrete pour of the top levels of each building.
The topping out event has a long history. The origins of this construction celebration are credited to pre-Dark Age Scandinavian cultures, where a tree was placed on the top of a new building to appease the tree-dwelling spirits whose ancestors had been displaced during construction or by cutting trees for lumber. Topping out ceremonies are now celebrated all around the world. In the United States, the last beam of a skyscraper is painted white and signed by all the workers involved. In New Zealand it is known as a "roof shout" and workers are treated to cake and beer. And in the Netherlands a national, regional and city flag is hung from the highest point of the building, where it stays in place until the building's owner provides free beer to the workers.
At the University we chose to have our Vice-Chancellor, Dr Michael Spence, and the executives from the respective building companies trowel-finish a small section of concrete on the top levels of each building and then celebrated the events with an afternoon tea.
Whatever the history all stories say that the topping out ceremony symbolises positive things; good luck for future occupants, continued growth, a safe job, and celebrates an important achievement in a building's construction.
Work is also progressing on The University's exciting new facility, the Susan Wakil AO Health Building (SWAOHB), to be located on our Camperdown Campus in our Health Precinct.
The Susan Wakil AO Building will be a multi-disciplinary facility that will co-locate the Faculties of Nursing and Midwifery (currently located at Mallett Street), Health Sciences (currently located at the Cumberland Campus) and the Central Clinical School from Sydney Medical School (currently located at the Royal Prince Alfred Hospital). Located on the site of the existing Blackburn and Bosch group of buildings and adjacent to the Royal Prince Alfred Hospital, the 23,000 square-metre building will provide a new home on the Camperdown campus for health-related teaching and learning.
It is a very exciting time for the University as we watch the transformation of our campus with the construction of these beautifully designed buildings that will provide for students, teachers and researchers for generations to come.