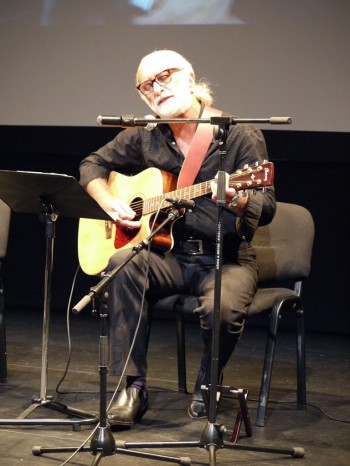 In the mid 1960s I used to go to the teenage dance halls of the era and ask whichever band was playing if I could get up and sing. Within a year I had formed my own band. I was approached one night by the head of Clarion records and offered a recording contract. Naturally, I was over the moon, and within a couple of weeks I was in the studio behind the mike laying down a cover version of a song called I Will, which was released on vinyl as a 45rpm single. It was still in the charts in my hometown of Perth when I recorded my second single for 1968 here in Sydney at Festival records. Within weeks of its release, I received my draft notification and was conscripted into the army, trained as a field artillery gunner and sent to fight in Vietnam.
I suffered a war-related emotional breakdown in 2006, which left me pretty useless to everyone. I knew what was wrong. A combination of guilt and the effects of suppressing waves of depression for 36 years finally caught up with me and I just crashed and burned.
I do charity work because I believe that we all have a responsibility to one another in times of need. I get a great personal lift out of it as well, through feeling in a way that I am compensating the universe for the part I played in the destruction of lives back during the war. I know that I was only a soldier following orders but I can tell you that it is impossible to take a human life, fully armed mortal enemy or not, without having a part of yourself die at the very same instant.
It was the owner of the Zebra Lounge, a waterfront restaurant/bar in Pyrmont, who first called me The Duke of Vintage Chill. I've had a Saturday and Sunday afternoon residency there for the past two years. I perform solo with just a guitar and sing mostly old ballads from the '60s. It's a very laidback environment. I'm amazed at just how many young people love those old songs.
Old buzzards like me with long white hair and a full but cropped beard who can act to a professional standard are apparently few and far between. I started to perform in films on a volunteer basis for the local film schools in the area and it has just gone nuts. By the end of November I will have been cast in and made a total of 17 short films. I have already won a Best Actor award for my performance in the film Harold, and I'm proud of that. I'm told also that Harold has been accepted into the Stockholm Film Festival for January 2013, which amazes me but is very exciting.
I'm not really what could be considered a high-profile artist, so awards and the like are few and far between. I do have a drawer full of thank-you certificates from a variety of charitable organisations such as the St Vincent de Paul Society, Wesley Mission and Father Chris Riley's Youth Off The Streets, and I'm proud of them all. At the moment, I'm also providing support for an online ex-military service organisation simply called youngdiggers.com.au. I do this by staging my Hero's Legacy concert, which raises money for the families of our fallen soldiers from the current conflict in the Middle East. I suppose I keep pretty busy with all that's going on in my life as well as giving as much time as I can in helping my son and daughter with my grandkids.
By the middle of next year I will have finished my third album, which will be my version of Patsy Cline's hits. ABC Shops will be the national distribution arm as has been the case with my two previous albums.